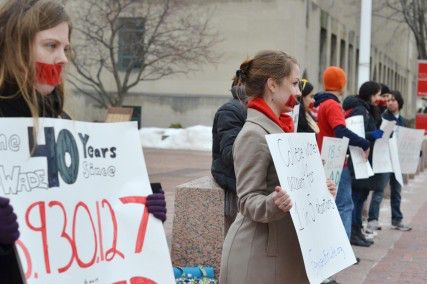 Members of Boston University's Right to Life student group gathered at Marsh Plaza Tuesday bearing signs in protest of abortion.
The group's intention was to honor lives lost to abortion since 1973's U.S. Supreme Court decision in Roe v. Wade by participating in a day of silence, said Right to Life President Brad Agostinelli.
"We want to stand for life and truth on our campus," Agostinelli, a College of Arts and Sciences senior, said. "Get the word out there, get people thinking 'is abortion actually permissible?' A lot of times people just write it off because they know it's an inflammatory issue, but they don't really think about it."
Ten demonstrators carried signs with statistics about abortion and pregnancy among college students and children. The protesters wore red duct tape over their mouths, emblazoned with the word "life."
Agostinelli said the tape symbolized the lack of voice children have.
"As much as we want to do what we think is best, they [children] don't have the choice to choose life for themselves," he said. "This is in solidarity with all the children who have been silenced due to, specifically, the legalization of abortion in the U.S."
Olivia Haywood, a CAS junior who passed the demonstration, said it was interesting Right to Life chose to voice its opinion by being silent.
She said she perceived the group's choice of location as significant to its cause.
"They did it because it is in front of the church, in front of Marsh Chapel and goes with the views of the church that abortion should not be used," she said. "That's important for this cause and it's the only logical place for them to have this demonstration."
Haywood said the protesters likely are not representing the majority of opinion on campus with their pro-life message.
"I assume because it's a liberal college, a lot of students believe in abortion in certain circumstances," she said. "Most people are in favor."
Maggie  Swanson, a College of Engineering freshman who witnessed the protest, said she supports the group members in their efforts to speak their minds, as it is better to peacefully organize than to protest in a disruptive way.
"I'm all for having the right to believe and do whatever you want, so it's not like it bothers me," she said. "They're all quiet, it's not disruptive … It's sticking up for what they believe in."
Swanson said while she does not think demonstrations are always successful, protests can bring people together based on shared beliefs and opinions.
"I'm not entirely sure what the BU community thinks, but there are people out there who believe in it [abortion] and there are people out there who don't," she said. "I don't necessarily know how well protests convince people or sway people, but it's still a way to show people out there who believe in what you do."
Katy Tooley, a CAS junior and bystander, said while she does not agree with the group's opinion, Right to Life has a right to demonstrate and protest for what they believe in.
"It's a good message with the tape and everything," she said. "I like how they're not up in everyone's face. I think it's the most respectful a protest can be."
However, some students were displeased with the group's message.
"I think it's unfortunate that anti-choice advocates have adopted the pro-life label," said College of Communication senior Molly Savard in an email. "I'm pro-life in that I don't believe in killing people and nonhuman animals, but I believe people who have the capacity to give birth have the right to choose whether and when they want to do that."
Savard said she believes Right to Life must consider a diversity of opinions.
"One specific problem I have with the BU [Right to Life] group is their executive board is comprised of 3/4 men," Savard said. "I will respect their opinions on pregnancy and abortion when they have the capacity to be faced with the seemingly impossible choices of a pregnant person who does not wish to carry the pregnancy to term."
Agostinelli said the current Right to Life executive board is comprised of two men and two women, although the group's website was not updated until recently.