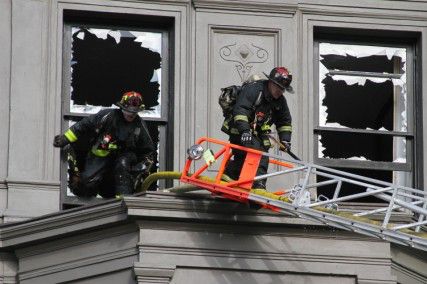 A three-alarm fire caused by an in-floor radiant heating unit broke out in a Back Bay brownstone near the Public Garden Wednesday morning. No one was injured, according to Boston authorities.
The Boston Fire Department was called to 17 Commonwealth Ave., a condo building, at about 9 a.m.
Steve MacDonald, spokesman for BFD, said the fire began on the fifth floor and caused extensive damage.
"[There is] Water damage on floors three through five," he said. "The fourth and fifth floors are now gutted. And there is an estimated $5 million in damages."
Firehouse ladders 18, 17 and 24 reported to the scene, said Deputy Fire Chief Richard DiBenedetto.
"It was because of the way the fire traveled," he said of the need for such a great number of firefightes. "It was in the stairway and it got into the walls, so we needed a lot of man power to open up all of the walls."
Stephen Storm, the site supervisor for the building under construction next door, said he smelled smoke and called the fire department.
"Two of our workers smelled the smoke," he said. "We were working out on the back deck and they smelt the smoke. Then we notified the Boston Fire Department."
MacDonald said the fire was put out within 35 minutes of the firefighters' arrival on scene.
No one was injured in the fire, but building resident John Walsh was in his condo on the third floor taking a shower when he first smelled the smoke.
"I smelled the smoke, so I got out of the shower, dried off, put on sweats, went down to the panel and saw the 4th and 5th floor smoke detectors were on," he said. "So I called the fire department. It seemed like they were here in seconds."
Walsh said he was thankful none of his neighbors were home and the fire department responded quickly.
"They assessed the situation and went right in," he said. "They seemed to have no thought for their own safety."
MacDonald said the building had a pleasant interior and it is unfortunate that it sustained so much damage.
"There was a beautiful living room with a nice chandelier and there was just water pouring out of the ceiling," he said.