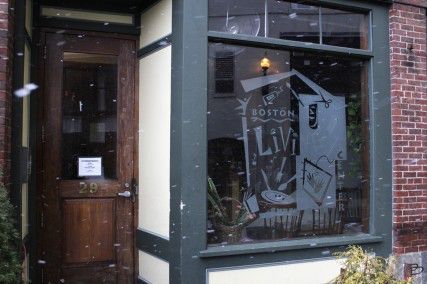 Larry Kessler, a longtime HIV/AIDS activist, said he is happy to be back to work at the age of 70, after becoming the director the Boston Living Center as a part of a movement to ensure that the center remains a safe haven for those battling the AIDS in the Commonwealth.
As of December 2011, there were 18,170 people living with HIV/AIDS in Massachusetts, and 232 people dying from the disease a year, according to AIDS United.
Kessler said the BLC remains a place of hope and support since its inception about 25 years ago.
"The Boston Living Center has for the past 25 years been one of those places that stood for health and survival — wellness and living with AIDS as opposed to dying with AIDS," he said. "What started out as a simple Monday night supper has grown into a viable center of programs and activities that help individuals."
Kessler came out of retirement to help revitalize the center after the BLC suffered an embezzlement scandal in December 2011 that left the center on the brink of closure.
"The unfortunate case of embezzlement arose here at the center.There was of course a lot of despair and fear that the center and its programs would not survive," Kessler said. " But with the help of an ever-generous community and The Victory Programs, a transition occurred that pumped new life and vitality into he center."
The Victory Programs, a Boston–based nonprofit dedicated to helping individuals and families who are homeless and may have substance abuse disorders, is merging with the BLC in March.
Kessler said he was very exited about this merger, which will take place March 1.
"We will celebrate the merger of these two organizations and reflect on just how far we came and how fast we recovered," he said. "Victory Programs recruited me to take over a piece of this center to both send out a signal that we all cared deeply about it's need to survive, but also send a signal that the past nightmare has ended."
Although Kessler is only now working for the BLC, he has been a part of the battle against the HIV/AIDS epidemic since 1983.
"I was engaged to help develop the program that became The AIDS Action Committee," he said. "At that time, we knew little about the epidemiology of the unfolding epidemic and little information on how to prevent infections."
The AIDS Action Committee has since formed into the oldest and largest AIDS service program in New England.
Kessler said one of the biggest problems in the past was was the discrimination felt by those affected by the disease.
"There was a lot of misconceptions about the course of the disease, and that people were often being discriminated against by the health and employment systems that they relied on for support," he said. "So over time we developed a couple dozen programs that helped people with AIDS get better care, keep their jobs, protect them in their homes and make it easier to live as long as they could with this diagnosis."
Kessler said the city of Boston has experienced the difficulties and successes of the AIDS battle.
"Various AIDS organizations in town have continued to provide needed service to help people live with AIDS, and at the same time try and prevent new infections," he said. "That work continues statewide with the support of individual donors, corporate gifts and various health departments and foundations who have been major players and payers of the efforts that have paid off."
Boston Mayor Thomas Menino said in a statement that Kessler's return to Boston would be a huge boost for AIDS and HIV awareness in Boston.
"Larry Kessler is a living Legend in the AIDS community," he said. "He has advocated for people living with HIV/AIDS since the early days of the epidemic. Larry's unmatched expertise will continue to broaden Victory Programs' Boston Living Center's presence, and bring much needed services and advocacy to even more people with HIV in Boston."
The progress made since Kessler began his work decades ago is vast, and continues today through his work with the BLC.
"I have immense belief in our mission and also in our most generous and hopeful staff," Kessler said. "Needless to say the members share in that hope and contribute greatly to that mission.  They don't just want to be seen as individuals living with HIV or AIDS, but as people who can and want to and will help stop this epidemic."