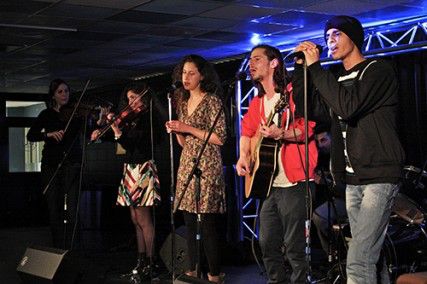 To kick off 2013's Israel Peace Week, members of Boston University Students for Israel hosted Heartbeat, an Israeli-Palestinian youth music community, Monday evening.
About 90 students, professors and community members gathered at BU Central in the George Sherman Union to attend the group's showing, which BUSI co-president Rachel DuShey said was a gathering of music and love.
"The message of this group perfectly coincides with my personal message and the message of the series Israel Peace Week, which is coexistence," she said. "We're focusing on social efforts at coexistence and grassroots efforts as opposed to lofty political goals."
DuShey, a College of Communication junior, said while people often talk about a need for peace, it cannot exist unless it begins at a basic level.
"People talk about local borders all the time, they talk about wrong moves that the Israeli government is making, wrong moves that the Palestinian governments are making," she said. "But it's all about the people in the end and what the people choose to do."
Leora Kaufman, BUSI co-president and COM junior, said she discovered Heartbeat during her gap year in Israel after high school.
"Coexistence through music is such a human thing," she said. "That was really the highlight of the event, that we could get together and forget our political ideologies for a minute and just enjoy something."
Kaufman said Heartbeat's membership is constantly in flux, but about half Israeli and half Palestinian.
Although they were invited, BU Students for Justice in Palestine members did not make an appearance at the concert, Kaufman said.
"I do wish that the Students for Justice in Palestine could have come because that would have really started some dialogue on our campus," she said. "If we have a similar event in the future we'll really put an emphasis on them coming. We did invite them, but they didn't accept this time."
Kaufman said SJP's Israeli Apartheid Week, set to take place in March, is indicative of the differences between BUSI and SJP.
"Israeli Apartheid Week is something that we completely disagree with," she said. "We want BUSI to be a place for difference of opinions … We would never have a week devoted to criticizing something and being negative and posting bloody pictures."
She said BUSI plans to mirror SJP's tabling efforts during Israeli Apartheid Week to educate and inform BU students about Israeli democracy and how it is different from apartheid.
Kareem Chehayeb, a member of SJP and College of Arts and Sciences senior, said Israel Peace Week is a counter to Israeli Apartheid Week in that it tries to show a brighter side of Israel.
"They try to cover up these atrocities and human rights violations and other terrible things that Israel has been committing for such a long time," he said.
Chehayeb said SJP is often criticized unfairly for its Israeli Apartheid week.
"When we have these events that criticize the apartheid nature of Israel, or treatment toward minorities, we come across as people who hate Israel," he said. "In reality, we just want equal treatment under the law. We want human rights."
While BUSI did not officially invite SJP to the event, the BUSI Facebook group wrote on SJP's Facebook wall an hour before the concert inviting SJP members, said Zena Ozeir, SJP president and CAS senior.
"To be for peace is to be for the human rights of all human rights of all people living in that area, and I don't really think that is what BUSI stands for," Ozeir said.
Ozeir said although she has no problem personally attending Israel Peace Week events, SJP as an organization will not attend.
"There is no reason for us to normalize relations with them because that skews the fight for Palestinian human rights and makes it look like it's an equal-sided battle, which it's not," she said.
Guy Gefen, a Heartbeat musician and resident of Rehovot in Israel, said Heartbeat came to BU to show that Palestinians, Israelis and Americans can all come together and bond through music.
"Our being here is no simple thing and your being here is no simple thing," he said. "After this show you are now all ambassadors of peace — you can't argue with what you just saw. You just can't."