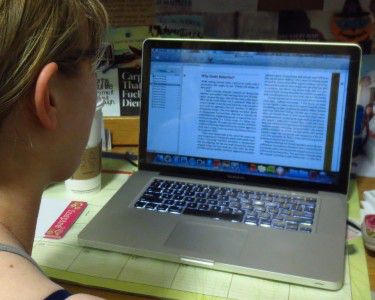 As Boston University's new Council on Educational Technology and Learning Innovation looks to increase BU's education technology options, students taking online courses are more likely to achieve lower grades, according to a new study.
Members of the CETLI emailed faculty Tuesday regarding future educational innovations at BU, said Associate Provost for Undergraduate Affairs Elizabeth Loizeaux. The email stated BU officials will work to improve academic flexibility for BU students, create alternative classroom locations, connect the community and allow BU students studying abroad to participate in online courses.
"We're in a phase of trying to understand what the possibilities are for teaching with educational technology," Loizeaux, CETLI co-chair, said. "It's not just online — it's the full range of educational technology."
CETLI members aim to create a more flexible learning environment, Loizeaux said. Outside a traditional classroom environment, however, there are new educational challenges and concerns.
Researchers at the Columbia University Community College Research Center examined 500,000 courses taken by 40,000 community and technical college students in Washington and found students enrolled in online courses received lower average grades than those enrolled in traditional classes, according to the study, published as a February CCRC working paper.
Students who participated in online courses had a mean 2.77 grade point average on a 4.0 scale, whereas students enrolled in face-to-face courses enrolled averaged a 2.98, according to the study.
David Whittier, education professor and director of BU's Educational Media and Technology Program, said challenges often arise when courses change from in-person to online.
"It's true that no matter how good the technology is, when it's between the communicators, something is lost," he said.
Whittier said when classes are offered online, communication becomes more structured and less flexible, offering fewer opportunities for dialogue. This has minimal effect in some courses, but for others that rely heavily on dialogue, it can become problematic.
Whittier also said each student's individual learning skills contribute to how well he or she may adapt to online learning, just as individual learning skills contribute to success in the classroom. Students learn as well online as they do in person, he said, though there are other factors that determine how successful they will be.
"It's not just high ability, a key factor is learner autonomy," he said. "Autonomy is about being a good manager of your own learning … self-directed, self-managed, able to manage your time well, those features. There are differences among people in that regard. Some people are better at it than others."
Christina Richards, a first-year School of Education graduate student, said, logistically, online classes could be beneficial for BU students.
"A lot of people would find them really helpful, especially graduate students who have to balance either full- or part-time jobs and find it difficult to physically attend class," she said.
Richards said while they would likely be helpful to other students, she has no personal interest in online classes.
"I would not like online classes just because I am not self-motivated," she said. "I need to be in a classroom in order to do my best."
Carrie Cramer, a College of Engineering freshman, said she had tried online courses in the past and did not like them.
"I'm more of a visual learner than just someone who learns by reading, and I think in a lot of online courses you're reading a lot online," she said.
Beverly Chan, a College of Arts and Sciences junior, said online classes would help non-traditional students fit class into their schedules.
"They are very useful for students that are either working full time or have a lot of other priorities other than academics," she said.
Despite the study's findings, online courses and other educational technologies provide increased scheduling flexibility, accessibility and a lower cost, Whittier said.
"A lot of the things that are happening are driven by economics and automation," he said. "So a lot of the new online educational opportunities, especially the massive scale ones, do provide opportunities that are not available."