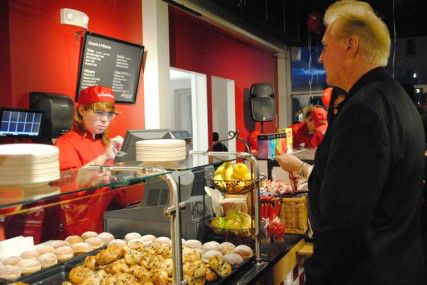 Swissbäkers bakery celebrated the opening of its new Allston location Thursday night, bringing out many residents of the community who said they are pleased to have the shop in their neighborhood.
A family-owned company, Swissbäkers opened when Tobey and Nicolas Stohr decided they could not adjust to American bread after moving from Switzerland at a young age. Their mother, Helene Stohr, started baking Swiss breads for her children, who attended a German school at Boston University for children of European descent. Once word of Helene's baking skills got out to the European community, the company took off.
"When [the other kids] saw us eating European bread they told their parents, and sooner or later my mom was asked to sell rolls at the school," said Tobey Stohr, who now co-manages the business with his family. "At that point we did farmers markets and it got to the point where Thomas, my dad, had to quit work and join the team, and since day one it's been a whole family effort."
When their location in Reading became too small to keep up with their growing production needs, the company decided to expand and open a bakery in Allston, Stohr said.
"Production-wise we had 400 square feet in Reading," Stohr said. "It got to the point where it was too small. We were doing 17 farmers markets a week and had no way of doing it."
Swissbäkers sells a variety of breads, pastries and croissants made fresh on a daily basis, according to the company's website. The Reading location remains open for business, although all production will move to their new flagship location at 168 Western Ave. in Allston.
Harvard University offered the Allston location to Swissbäkers, and the family decided that this provided a great opportunity, Stohr said.
"This development in the next five to ten years is going to be ridiculous," Stohr said. "And the feedback [from the community] we've had just in the past month has been phenomenal. I think it [the bakery] will take off."
A press release from the Public Affairs and Communications department at Harvard University said the store opening is part of plans to bring commercial entities to the Allston area.
"Located in Harvard-owned property, the new bakery and café is part of the University's ongoing efforts to bring vibrant, community-oriented uses to the University's Allston properties and contribute to the vitality of Western Avenue," stated the press release.
Many members from the Allston area came to the grand opening  Thursday night, where they were able to take a tour of the bakery and taste free samples.
Allston resident Sangeetha Sekar, 27, said she was excited to see a new addition to the Allston area.
"I've been waiting since last November for this area to open," Sekar said. "I love baked goodies and I was waiting for something in the Allston area. It's a wonderful addition to the community."
A number of other residents also said they were excited about the bakery. Rich Parr, 33, said it was nice to see the area finally being developed.
"We don't have a lot of bakeries or coffee shops in this lower Allston area," Parr, an Allston resident, said. "A lot of stuff has been on hold for a long time because of Harvard, and so it's nice to see things like this happening. We're starting to get some actual places where you can have a meal or coffee or other things, so it's nice."
Lexington residents Frank Fotis, 71, and Mary Ned Fotis, 68, said they are excited to see Swissbäkers expand.
"We came all the way from Lexington for this," Mary said.
"It's a great addition to the area, and we'll definitely be back." Frank continued. "It's the quality of the food that keeps us coming back to Swissbäkers."
Brighton residents Nadia Eltayar, 27, is a Swiss native. She said she discovered Swissbäkers at a farmer's market and now that they are right in Allston she will be sure to frequent the shop.
"It's the most authentic you can get for a Swiss bakery," Eltaya said.