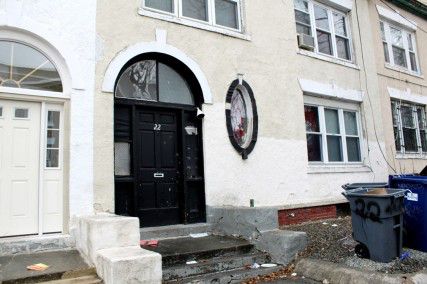 Dean of Students Kenneth Elmore and President Robert Brown met with Boston University Greek life leaders Wednesday night to open dialogue as a result of a student dying after being transported unconscious from a Sigma Alpha Mu party in Allston.
Although the meeting was held privately, Elmore said before the meeting that it has become necessary to begin a discussion between administrators and Greek life leaders.
"We're at a point where we've got to talk about this," he said. "There needs to be some dialogue in terms of any additional regulations or how we administrate it or whether or not the groups still continue to exist as is."
Officials suspended the Sigma Alpha Mu fraternity Monday following the fraternity's national organization suspension of the BU chapter. Elmore's staff, the Student Activities Office and the Office of Judicial Affairs will investigate the fraternity.
"We are just starting to bring in members of the organization to look at either their part personally in it, or the organization's role in the allegations," Elmore said.
Elmore said he and Brown met Wednesday with the presidents of fraternities and sororities, as well as the presidents of the Interfraternity Council, Panhellenic Council and Multicultural Greek Life.
"We've got to have a real heart-to-heart with each other to start," he said. "This is going to be, I think, more of a conversation that happens over time, but we've got to start tonight [Wednesday night] and hit this point blank."
IFC and Panhellenic Council leaders were not available for comment at press time.
Elmore said a conversation is necessary after multiple incidents in the past calendar year.
"It [a dialogue] is needed now," Elmore said. "We have a student who's dead. That's serious. We've got a real serious thing that went on … We've also seen three other highly visible circumstances with organizations like this. We'd like to call the question and I think it's legitimate to do that."
In October, the Sigma Chi fraternity was placed on interim suspension pending an investigation for hazing. In May, the Sigma Delta Tau fraternity was suspended for hazing involving alcohol. Both organizations returned in January.
On Saturday, College of Engineering freshman Tony Barksdale II died at St. Elizabeth's Medical Center after being transported from a Sigma Alpha Mu function at 22 Wadsworth St. in Allston. He was a new member of the fraternity.
Boston Police Department officers responded to the address just after midnight Saturday morning to reports of an unconscious victim who had lost breathing, according to the BPD incident report. The victim was transported to St. Elizabeth's, where he later died.
"Preliminary examinations show no sign of physical trauma," said Suffolk County District Attorney Jake Wark. "The medical examiner has not made a determination on the cause of death pending the toxicology report."
The results of the toxicology report could take two to three weeks, Wark said.
Elmore said it is possible all the incidents including the death were separate and isolated.
"I go back and forth because people rightfully can say 'look, that was one organization, that wasn't mine, I don't want to be tied to that, I don't want to be tied into that, my organization is doing the right thing,'" he said. "That's certainly some of the thinking and it's legitimate."
However, he said a dialogue between officials and Greek life leaders is still necessary.
"The other piece, though, is that fraternities and sororities come from a mode where they think as a group and they say 'we are our brothers and sisters keepers and we support each other,"' he said. "If that's the case, on a real pragmatic level, we need to figure out how we are functioning from a social standpoint so we can avoid what happened from happening in anyone else's organization."
Elmore said one of his main concerns is the efficacy of bystander training and alcohol awareness, which he worked on closely with Greek life leaders.
"I've spent a lot of time talking about these issues with this group of people," he said. "My staff has spent a lot of time talking about these issues with this group of organizations and individuals — beyond that, too, but specifically with this group. Part of this conversation has got to be 'hey, how come my message isn't getting through?'"
BU students are invited to take a BU-sponsored bus to New Hampshire for Barksdale's funeral Saturday, according to the BU Dean of Students website. A BU memorial service will take place Thursday at 7 p.m. in the Metcalf Ballroom.
Brian Latimer and Margaret Waterman contributed to the reporting of this article.