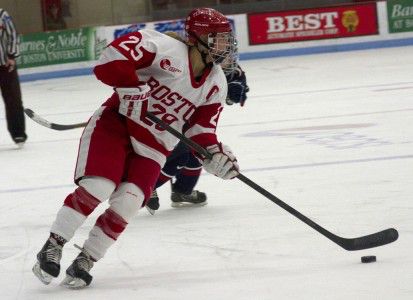 Boston University women's hockey coach Brian Durocher was announced as a finalist Monday for the American Hockey Coaches Association Women's Division One Coach of the Year.
Other nominees include Katie King Crowley of Boston College, Doug Derraugh of Cornell University, Paul Flanagan of Syracuse University, Brad Frost of the undefeated University of Minnesota and Mike Sisti of Mercyhurst University, which BU faces in an NCAA semifinal matchup Friday evening.
Derraugh received the award in 2010, when Cornell was national runner-up. Sisti is also a previous winner, winning for the 2004-05 season after his team reached the NCAA Tournament quarterfinals. Last season, the award went to St. Lawrence University's Chris Wells.
This season, Durocher led the Terriers (27-5-3, 18-2-1 Hockey East) to their second consecutive Hockey East Championship and their third in four seasons. After an NCAA quarterfinal victory against Clarkson University by a score of 5-3 Saturday afternoon, BU will head to its second Frozen Four appearance in three years.
Durocher has served as BU's head coach since the varsity program was established in 2005. He earned his 150th win as a varsity coach earlier this season with a victory over the University of Vermont on Feb. 16. In his eight seasons at the helm, he has compiled a record of 158-92-37.
Should Durocher be named AHCA Coach of the Year, he will become the first Hockey East coach to receive the honor.
Poulin, former Terriers named to Canadian National Team
Junior co-captain Marie-Philip Poulin was recently named to the Canadian National Women's Team for the 2013 IIHF Ice Hockey Women's World Championship.
Poulin, a Beauceville, Quebec, native, leads BU this season with career highs in points (51) and assists (34). She only trails her linemates — senior Jenelle Kohanchuk and freshman Sarah Lefort — for  the team lead in goals this season. Kohanchuk and Lefort each have 23 goals this season, while Poulin has 17. This weekend, she had a goal and an assist en route to BU's victory. She has earned 14 points in the past seven games.
Poulin has already represented Team Canada two times this season, placing second at the Four Nations Cup in November before joining with Kohanchuk and Lefort to earn a gold medal at the Meco Cup in January.
Former Terriers Jenn Wakefield and Catherine Ward were also named to the Team Canada roster. Wakefield, who served as captain for BU during the 2011-12 season, tallied 120 career goals. She was also named Most Valuable Player in the 2012 Hockey East Tournament. Ward, a Montreal native, was named the Best Defensemen in the Hockey East Conference during the 2010-11 season.
Lefort, Sperry earn Hockey East weekly awards
Junior goaltender Kerrin Sperry was named the Defensive Player of the Week in the Hockey East Conference, her second time receiving the honor in as many weeks. This weekend, Sperry made 34 saves against Clarkson, with at least 10 in each period.
Sperry has a 3-2 career record in the NCAA tournament, including a 2-0 record in the NCAA Tournament quarterfinals. This season, she has started 29 games, letting in an average of 2.14 goals per game, with a record of 23-4-3.
Sperry was not the only Terrier to receive conference honors this week. Lefort earned her second straight Hockey East Rookie of the Week award and her sixth of the season after a pair of goals in Saturday's game.
Lefort is currently on a six-game point streak, with eight goals and four assists during that span. In addition to sharing the team lead in goals this season, her 43 points is second among all Hockey East freshmen.
BU coach Brian Durocher could not be reached for comment.