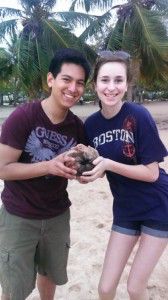 For some students at Boston University, spring break means going back home, visiting friends, eating home-cooked meals and catching up on sleep. However, a number of students ditch the couch potato act and instead gave back to the community through Alternative Spring Break programs.
Fighting HIV in San Juan, Puerto Rico
Since San Juan, Puerto Rico has increasingly high rates of HIV transmission and drug use, College of Arts and Sciences senior Alex Valdovinos helped organize an ASB trip on which volunteers worked with a nonprofit organization, Iniciativa Comunitaria, to help spread public health awareness as well as provide materials and medical kits to underserved populations in the area.
After participating in the First-Year Student Outreach Program as a freshman, Valdovinos said he was still looking for ways to give back and help those in need. After some encouragement from his friends, he became involved with ASB, where he was able to combine his interest in service work and public health.
"Alternative Spring Break is one of the best programs in BU, if not one of the best experiences I've encountered," Valdovinos said. "You get that gratifying feeling by doing something good for the community."
Valdovinos said coordinating an ASB trip took more preparation than FYSOP, for which staff had five days of training. ASB coordinators train from October to March. He said as an ASB coordinator he had to contact coordinators at the volunteer site to ensure that students will be welcomed and have the best experience they can get.
"They want to learn the issue, they want to have a new experience and I'm there to give it to them," Valdovinos said. "I'm Hispanic, so I want to give them that Latin flavor of Puerto Rico while they're experiencing the different areas of public health and the different issues in Puerto Rico."
Valdovinos said the most inspirational part of the trip was when he met with the Executive Director of Iniciativa Comunitaria, Dr. Jose Vargas. On the first day of ASB, Vargas told volunteers that he created Iniciativa Comunitaria because he was appalled by the way the patients were treated, Valdovinos said.
Of all the things he learned during his time in Puerto Rico, Valdovinos said he was most impressed by how caring the volunteers were.
"I've never seen so much commitment and hard work in my life," he said. "[The volunteers] don't do it for the money, but because of love and compassion."
Rescuing refugees in Atlanta
College of Communication sophomore Jun Tsuboike said he wanted a new experience and realized he wanted to assist communities, which is why he sat in front of his computer at 7:59 a.m. on December 1, fervently refreshing the ASB registration page until he landed a spot on the Atlanta ASB trip.
While pursuing a dual degree in international relations and journalism, he said participating in ASB would bolster his awareness about people in need.
"What's important to me is helping people, that's what my passion is about," Tsuboike said. "Journalism is great because I want to inform people and I think that's very important. But for international relations, it's for understanding people. The environment I'm going to be in is going to be very different."
In Atlanta, Tsuboike worked with the International Rescue Committee, a program that helps refugees settle into the U.S. The volunteers helped by filling out paperwork, writing portfolios for the refugees and teaching them English.
Although Tsuboike said he has not done community service to this scale before, and even foresaw some difficulty with the language barrier between him and the immigrants, these factors did not deter him from getting involved. He said he helped the immigrants with Teachers of English to Speakers for Other Languages programs and did charades to explain the meaning of the words.
"I see myself being a cosmopolitan citizen," Tsuboike said. "I want to be part of the world, not just a bubble. I have to understand those people in completely different environments that I've never been in."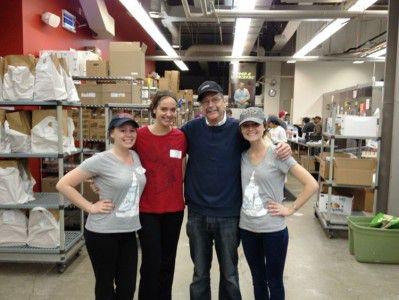 Helping the homeless in Washington, D.C.
Growing up as a girl scout, College of General Studies freshman Shannon Stocks devoted a large amount of time to volunteering. She said she was initially focused on achieving awards and recording numbers of service hours but as she grew up, she realized that those badges aren't important.
"It wasn't to get the awards, it wasn't to get the hours, it was because I really liked the project," said Stocks. "When I came here I did FYSOP and joined a community service sorority, so ASB was the next level."
When signing up for ASB, Stocks thought the Washington, D.C. trip suited her the most.
"I like to do more hands on activities and one-on-one activities with people," Stocks said. "It's more interactive and you get to see how you're helping."
Stocks said the volunteers worked with Capital Area Food Bank and Food & Friends to help the homeless in the area and educate the public on health and nutrition.
They packaged food and non-food products that were donated from schools and homes to patients who have diabetes, cancer, HIV and other diseases. She said there was an executive chef and a nutritionist on site when they were packaging to help accommodate those patients with specific dietary needs.
Initially, Stocks said she thought the main issue was hunger, but the trip taught her even more about public health, cancer and diabetes. She said she would love to participate in this trip again, but would like to travel to a different destination.
"I became more interested in public health after this trip, so Puerto Rico would be great," said Stocks. "Even the environment sounds interesting."
Stocks put ASB on her long list of community service accomplishments and said she hopes to become a co-coordinator next year.
Helping a fuzzy friend in New Orleans, La.
Participating in one of the few ASB trips involving animals, Justin Pennisi, a Sargent College of Health and Rehabilitation Sciences senior, traveled to New Orleans to assist cats and dogs that were abandoned or separated from their owners.
"I never had a pet growing up, so I said, 'Why not?'" Pennisi said.
The volunteers assisted the Louisianan Society for the Prevention of Cruelty to Animals, a nonprofit organization, with tasks such as cleaning shelters, assisting vets and handing out flyers. He said it was heart-warming to see great families adopt the animals.
Besides being able to interact with the animals, Pennisi said he enjoyed conversing with the New Orleans locals, learning about the culture and listening to their stories, especially about Hurricane Katrina.
"I've never been anywhere near New Orleans and I've heard really great things about the culture and the people," Pennisi said. "When we had our dinner [with the locals], we learned a lot of great stories and experiences, especially Katrina … I think that was a lot of people's favorite part."
During the 2012 ASB, Pennisi not only helped disabled children when he went to Texas, he said he also formed strong friendships on the trip, which he said "changed his college experience around."
Even though the ASB groups only met twice before departure, Pennisi said he was confident that with the 28-hour car ride, the volunteers would end up as best friends once they arrive down south. By the end of the trip, he said all the volunteers had become close and learned a lot about each other.
"Just that one week being next to 11 or 12 other people," he said, "you really get to know and appreciate each other's differences and … see other people's perspective."