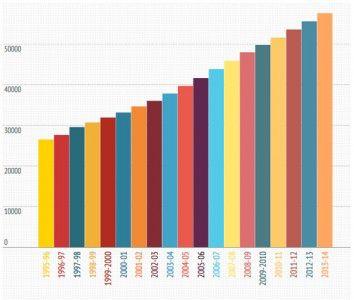 The total cost of tuition and standard room and board at Boston University will increase 3.6 percent, reflecting a $2,000 cost addition, for the 2013-14 academic year, according to an email to students Monday.
BU President Robert Brown announced in an email Monday afternoon that the Board of Trustees set the tuition rate at $43,970, a 3.7 percent increase, and the standard room and board rate at $13,620, a 3.3 percent increase. These costs bring the standard total cost of attending BU next year to $57,590.
"In setting a budget for the coming year, we have worked to protect and continue to improve the quality of a Boston University education and our support services, while recognizing the need to control the cost of attendance for our students and parents," Brown said in his email. "The tuition increase is one component of a conservative University budget."
For the 2011-12 academic year, the tuition rate was $42,400 and the standard room and board rate was $13,190, totaling $55,590.
Brown said the average tuition increase over the past five years has been 3.8 percent, one of the lowest among similar U.S. universities.
Between 2004 and 2009, the average yearly tuition increase was about 1 to 1.5 percent higher than between 2009 and 2013.
"The university works very hard to keep tuition increases as low as possible," said BU spokesman Colin Riley. "For the past decade or more, the tuition increases as a percentage have been below the national average for similar schools."
Despite the increases, BU officials will remain committed to providing financial aid for students, Brown said.
"Next year we expect that approximately 8,500 of our undergraduate students — 53 percent — will receive financial aid from the University," he said.
Riley said eligible students will receive a small increase in BU financial aid.
"The awarding is based on individual need," he said. "As long as a student's financial situation doesn't change dramatically, then he or she should experience a small increase in aid, but not enough to cover the full increase in tuition."
Brown said BU will work to control costs while continuing to improve the quality of education.
"We are mindful of the sacrifices parents and students make and especially aware — in economically uncertain times — of the importance of providing an education and campus experience that translates into long-term success in life and work," he said.
Riley said while there is a significant cost to attending BU, it is a worthwhile investment.
"It is certainly a reflection of the investment you are making in your education and your parents are making in you and in your education," he said.
Tuition is a vital portion of BU's annual budget and pays for about half of all operations costs, Riley said.
Several BU students expressed disapproval of the tuition hike.
Sarah Lowe, a College of Fine Arts and College of Arts and Sciences sophomore, said tuition increases frustrate her.
"We keep paying more but the facilities aren't getting any better," she said. "Half the lights in CFA don't work, the elevator always breaks and there are holes in the walls. I get that you have to pay a premium for a premium university, but at least put the money toward things students value."
Lowe said she would like BU officials to detail clearly where the additional funding will go.
"The school needs to be more transparent with where the funding is going," she said. "I would still be mad to pay, but not as mad."
Aisana Aitzhanova, a School of Management  junior, said she worries about informing her parents of the hike.
"I don't really care for me personally," she said. "But I am worried about my parents reaction because they get very upset every time they see tuition go up."
SMG sophomore Ronen Banerjee said he was discouraged to see tuition rise once again.
"I am a sophomore," he said, "So this the second tuition hike I have seen which is alarming enough, but I guess you have to do what you have to do to attend a good university."