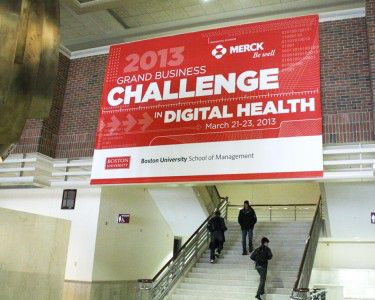 Reimagined from the former International Technology Strategy Case Competition, 2013's Grand Business Challenge in Digital Health hosted by Boston University School of Management beginning Thursday will change the way the world sees technology and healthcare integration, BU officials said.
With sponsorship switching from Ericsson telecommunication to the Merck healthcare company, the competition has become more focused on utilizing technology to improve healthcare, said SMG professor Venkat Venkatraman.
"[In] a typical competition, the students come, listen to the executives and leave," Venkatraman said. "This time, we decided that if we're inviting people from Korea, China and India, what's the point of them coming here to speak to three judges and then leave?"
Students will listen to all presentations so they can learn and interact with the judges, Venkatraman said. Then, participants will spend an hour collaborating on improving.
"MBA students from around the world look forward to coming," Venkatraman said.  "I've had students say that this was the best part of learning when they come to work with a live case, compete and learn from the industry."
Between 10 and 15 international teams comprised of four MBA students each will arrive in Boston Thursday, said Neil Yajnik, student chair for the Grand Business Challenge in Digital Health. Groups will have until mid-day Friday to put together a presentation for a panel of Merck and Microsoft judges.
There will be an elimination after the presentation and the last four teams remaining will go through the final round on Saturday, Yajnik, a third-year Graduate School of Management student, said. The victorious team will win $20,000.
"Traditionally, it [the competition] was more about developing a business strategy for a company," he said. "This [year] is more about leadership and innovation. It's more about idea, information and strategy."
Tara Duke, a Grand Business Challenge board member and third-year GSM student, said she was pleased with the competition's change in sponsorship.
"It's a great change," Duke said. "The schools invited have a different company with a different focus to work with. Ericsson is straight technology, while Merck is healthcare. It's definitely a different angle."
SMG students at the undergraduate level also said they perceive the changes as positive.
"Merck is a very good company," said Aditya Rudra, an SMG junior. "It has more to do with bringing a broader vision of the university. This competition is working with a healthcare giant, building towards a broader vision for SMG with sustainability and energy, IT and healthcare."
Rudra, who is also BU Student Government president, said the competition is also valuable for students because it encourages self-driven learning.
Some students said the competition allows participants to stretch themselves intellectually in that it allows students to explore areas other than business.
"This competition sounds fun in general," said Stephanie Stanczyk, an SMG junior. "You have to think outside of the box and think about areas besides business."
Stanczyk said the competition's new angle makes sense given the current business market.
"In the future, I know that our team is going to be focusing on business in the technology and healthcare world," Stanczyk said. "By hosting this, it says that we'll be heading in that direction."