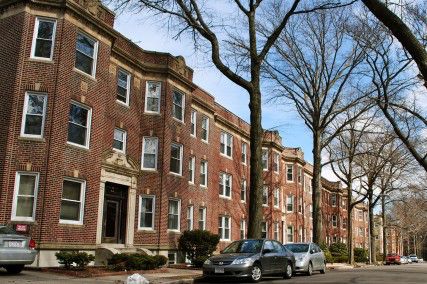 In order to afford a two-bedroom apartment in Massachusetts, employees earning minimum wage would need three jobs to pay rent, according to a report from the National Low Income Housing Coalition Wednesday.
"The purpose of Out of Reach is to illuminate the root cause of America's housing problems — the gap between the cost of decent housing and household income, particularly for renter households," said Amy Clark, communications director of the NLIHC.
The Fair Market Rent for a two-bedroom apartment is $1,251 to pay rent and utilities without paying more than 30 percent of income on housing, so a household would need to earn over $50,000 annually to afford an apartment, according to the Out of Reach 2013: Massachusetts Report.
In Massachusetts, a person working at minimum wage, which is $8 an hour, must work 120 hours per week, 52 weeks per year. That equates to three minimum-wage employees working 40 hours a week to afford the FMR, according to the report.
Clark said NLIHC has been producing these reports since 1989.
"After nearly 25 years of completing this report, there are very few surprises," she said. "The Housing Wage changes, the list of cities that are the least affordable for renters changes somewhat, but the fact remains that if you are a low-wage worker in the U.S., there is very little rental housing on the market you can afford."
Reports such as this show how difficult it is for people find affordable housing around the country, Clark said.
"We want people to understand that the affordable rental housing shortage is something that affects every corner of our country," she said. "In the case of market failures like this, the only real solution to the problem is for the government to intervene by providing housing assistance to the lowest income renters."
Jason Lefferts, spokesman for the Massachusetts Executive Office of Housing and Economic Development, said the report is not surprising because housing in Massachusetts is expensive and Mass. Gov. Deval Patrick is taking action to create more housing for people.
"Massachusetts has some of the highest housing costs in the country and those costs are pushing away young adults and families, including recent college graduates," he said. "In order for our world-leading innovation economy and other sectors to continue to thrive, we need to ensure that [the] workforce has access to reasonably priced housing."
Lefferts said the Commonwealth should expand its housing stock in Boston and throughout the rest of Massachusetts.
"We are working to meet the governor's goal of 10,000 new housing units a year," he said. "We know the demand for housing is in town centers or urban areas, and the statistics show that developers are reacting to that demand."
Kevin Lang, professor of economics at Boston University, said the results of the report are sending the right message to people, but their statistics are ambiguous.
"The use of the minimum wage as a metric for affordability is somewhat misleading," he said. "Minimum-wage workers tend to come from somewhat lower-income families than other workers do."
Lang said the NLIHC's use of 30 percent of income to spend on rent and utilities is arbitrary.
"How much rent is affordable depends on the total cost of housing including utilities," he said. "Financial advisors typically suggest spending no more than one-third of household income on rent. But many people spend noticeably more."
Randall Ellis, a professor of economics at BU, said the statistics are not surprising and seem to represent the issues that people have when trying to rent an apartment in the city.
"Clearly, one person earning the minimum wage cannot live in decent housing alone, but will have to share it with another wage-earner or have less housing," he said.
Ellis said the government could raise the minimum wage to help alleviate the burden of affording an apartment.
However, he said the report is flawed in using an average or median rent because it can vary depending on the location within the city.
"Very low-income people live in far suburbs where rents will be lower. Also, the calculations ignore the earned income tax credit, which supplements minimum-wage earners," he said. "Things are still tough, but there are some things that make it easier to live in Boston."