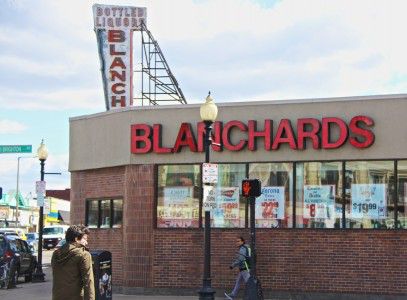 Due to multiple complaints from customers, the Boston Police Department is investigating reports of credit card fraud at Blanchard's Liquors in Allston.
"We received a few reports of credit card fraud, and there is no other information as we are waiting for the investigators to get back to us," said Officer Neva Coakley, a BPD spokeswoman.
Blanchard's representatives released a statement Monday saying they are aware of the issue and have taken the necessary steps to prevent further fraudulent activity.
"Blanchard's Liquors of Allston has learned that it may have been a victim of a sophisticated malware attack that it believes was the result of malicious code inserted into the software that processes its credit and debit card transactions," said Blanchard's operations manager Joseph Gomes in the statement.
Since receiving complaints about potential fraudulent and foreign charges on customer's credit and debit cards, BPD, the Secret Service, FBI and independent IT consultants have been in collaboration to investigate this issue, Gomes said.
Gomes said IT consultants first reported there was no evidence of a data compromise in the system, but after the company received more complaints, further investigation was conducted. Friday, independent IT experts discovered malware in point-of-sale software and the company immediately took down its primary credit card terminals.
"Blanchard's continues to investigate, but it believes that the issue was contained by Saturday and the malware neutralized and removed," Gomes said. "At that time, the credit card terminals were brought back up."
Although Gomes said Blanchard's has the situation under control, some customers who were victims of the fraud said they are still wary about using their credit cards in the store.
After using her credit card at Blanchard's, Vicky Kelberer, an academic advisor at Boston University and Allston resident, said her credit card information was stolen and used to buy $200 worth of groceries in Tennessee.
"I got a call from my bank notifying me of the issue and they immediately cancelled my card," she said. "It does not seem like their fault, but it would be ridiculous if they [Blanchard's] knew about the issue, but did not contact anyone about it."
Kelberer said she was refunded all of her money and is still a loyal customer to the store in Allston, but does not use her credit card in the store anymore.
Vitor Petrone, 22, a food service industry worker and resident of Allston, said his bank contacted him and canceled his card after seeing he had recent purchases in Blanchard's.
"I never actually had anything stolen from me, however Bank of America felt that my card was compromised because they saw that I had purchased items from Blanchard's around the time of the accusations," he said.
Gomes said customers who purchased items with a debit or credit card are encouraged to monitor their statements and report any suspicious activity to their banks.
Caitlin Glick, 26, a resident of Allston, said her roommate had fraudulent charges on her card after using it at Blanchard's.
"My roommate had some weird charges in Fort Meyers, [Fla.] and then she had to call her bank to issue her a new card," Glick said.
She said her roommate did not know from where her information was stolen until she read about the investigation.
"Although this is a serious matter, this does not make me more hesitant to come back to the store because everyone there is awesome," she said. "I am just careful to only use cash there now."
A number of BU students were affected by the credit card fraud as well.
Eric Levine, a senior in the Sargent College of Health and Rehabilitation Sciences, said his credit card information was compromised twice. He said the first time his credit card was canceled because according, to his credit card company, there was "potential for fraud." The second time, charges were made to the card.
"I had two charges that weren't mine … about $240," he said. "[The charges were] from Miami so I knew it wasn't something I did."
Levine said he suspected the origin of the fraud was Blanchard's, so he stopped using his credit card when he shopped there.
"It's still the closest place to my dorm, but if there was anywhere closer I wouldn't go back," Levine said.
School of Management junior Max Hamburger also had his information stolen as a result of the malware attack.
"My [credit card] was compromised a month ago and they caught it right away," Hamburger said. "It was weird too because a couple of my friends were talking about people who had credit and debit card issues and fraud issues."
Hamburger said he was surprised by the news that the fraud originated at Blanchard's.
"You don't expect it from Blanchard's because everyone over 21 at BU shops there for alcohol," he said. "Part of me doesn't want to shop and go there because the fraud has been going on for a while."
Brian Latimer contributed to the reporting of this article.