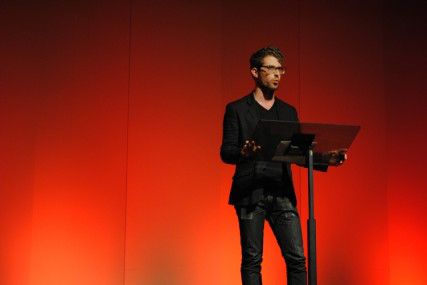 To honor former activist and Boston University professor Howard Zinn, students read notable speeches by the likes of Eugene Debs and Malcolm X as part of an organized tribute Tuesday.
The BU Anti-War Coalition hosted an audience of more than 100 people for "BU Speaks 2013: A Tribute to Howard Zinn" in the Tsai Performance Center Tuesday night.
"Howard Zinn was a professor here, but in addition, he was a huge activist and a huge inspiration to many of the students," said Kristen Martin, director of the memorial. "He inspired them to protest against the South African apartheid … to really just not be a cog in the machine, to really stand up and resist. And many of us who've read his books and read about his presence here on campus also want to push forward that spirit of resistance that he embodied."
Martin, a College of Arts and Science senior, said Tuesday marked the second year such a tribute to Zinn was hosted at BU.
Zinn taught political science at BU from 1964 until his retirement in 1988. He also authored several major works, including A People's History of the United States, and was a widely known activist. Zinn died of a heart attack in 2010 at the age of 87.
Martin said Zinn hosted similar symposiums in years past, where activists could come and have their voices heard. The style was later adapted to feature students.
"Basically, he had a bunch of famous actors and actress come and read these monologues," she said. "What we're doing is putting a kind of student activist twist on it, and we're having a lot of student activists and people in the community read these monologues and bring them to life."
Lauren Zitsch, assistant director of the memorial and CAS senior, said Zinn not only inspired many people but also gave a voice to oppressed social groups, often through literature.
"Though primarily considered an activist, Zinn produced many incredible literary works during his lifetime," Zitsch said.  "… In writing these books, Howard Zinn honored the voices of those ignored, exploited and forgotten by history. He showed us our country could be as a unit African Americans, Native Americans, immigrants and laborers."
Martin said AWC officials attempted to make this year's Zinn tribute more impressive and tried to include a greater variety of student groups.
"We tried to make it bigger, and really reach out to a bunch of other groups," she said. "We're in the Tsai Auditorium, and we're also getting co-sponsorships from the Center of Gender Sexuality and Activism, Students for Sensible Drug Policy and also Students for Justice in Palestine."
Martin said Zinn and his work motivated her her host the tribute in his honor.
"I personally have been incredibly inspired by Howard Zinn throughout my four years here [at BU]," she said. "I saw him speak freshman year and was inspired to go purchase his books, and he actually has really influenced me to become a high school teacher. I personally was very inspired and had this idea last year, and a big group of people was really responsive and helped to put this event together."
Myla Kabat-Zinn, Howard Zinn's daughter, said she thought the show was beautiful.
"I've seen voice performances by famous actors and there are so many performances in this that were really just up there," she said. "Really powerful, beautifully done and everything they did was so thoughtful — even the lighting, the colors, just added to what they're doing. They [AWC] did an amazing job."
She said it was touching to see students continue to recognize her father's work and influence at BU.
"He's a wonderful teacher, he was always entertaining and had great lectures," she said. "He had a big influence at BU, and it's so touching to see students continuing to honor him of what he contributed… [It was] wonderful to see that the students still care about the issues."
CORRECTION: The article initially stated Martin and Zitsch are director and assistant director of AWC, respectively. However, the two are director and assistant director, respectively, of the memorial itself. The article has been updated to reflect the correction.