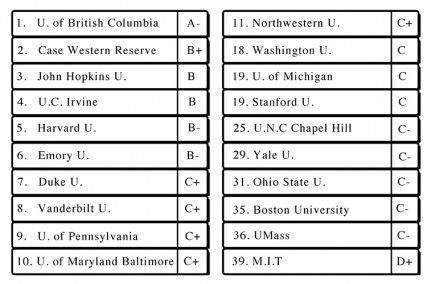 Falling behind many other major research institutions, Boston University tied for 35th in its quality of research in global health and neglected diseases, according to an evaluation released Thursday by Universities Allied for Essential Medicines.
The UAEM development team graded 54 Canadian and U.S. universities based on each institution's research innovation, accessibility and empowerment for action, according to the evaluation, performed for the first time and titled the University Global Health Impact Report Card. BU received an F, a C+ and a B- in each respective category, earning a combined score of C-.
"I was quite surprised that this is the picture of BU that the researchers present," said Lance Laird, a BU professor of family medicine. "It makes me wonder what BU is doing at least to promote awareness for the research that is available and arrangements that people are actively involved in, such as strengthening infrastructure or partnerships with the government."
Laird, who is also director of the Boston Healing Landscape Project, said the low rankings may stem from a lack of response, as some of the UAEM questions went unanswered by BU officials.
"It's more a criticism of the people who hold the information," he said. "I just can't believe it [the ranking]."
The University of British Columbia, Case Western Reserve University and Johns Hopkins University scored first, second and third place respectively. BU was tied for 35th with The University of Chicago, University of Illinois at Chicago and University of Massachusetts.
BU officials could not be reached for comment.
Alex Lankowski, a fourth-year BU medical student and part of UAEM's Report Card Project development team, said the study considered each individual university's efforts to encourage progress in both the global health and neglected disease fields, which he said could be improved by attempting to hire faculty with global health expertise.
"In order to increase the amount of neglected disease research … the university could recruit faculty interested in this sort of work," Lankowski said. "They could also establish a dedicated center for the study of neglected diseases, which we've shown is generally associated with greater neglected disease funding."
Lankowski said since pharmaceutical companies are obligated to maximize profit for their shareholders, universities must step up to the plate to ensure there is adequate global health and neglected disease research each year.
"NDs [neglected diseases] account for nearly 10 percent of the global burden of disease," Lankowski said. "Universities as a whole are not coming close to putting 10 percent of their research budget toward them … The distribution of research funding should at least somewhat mirror the distribution of global disease burden."
UAEM's research shows most universities dedicate less than 2 percent of research to neglected diseases, Lankowski said.
About 1.3 percent of BU's research is dedicated to neglected diseases, according to the study.
Lankowski said as a student, he was disappointed in BU's unwillingness to supply information for the study, which in part affected results for its grades.
Second-year Graduate School of Management student Jean-Paul Weaver said he was not surprised with BU's rankings or the grades that BU's research received.
"There are so many concerns that BU is attempting to tackle at the same time, so it's believable that it wouldn't include diseases that aren't directly under BU's radar," he said. "I'd imagine their focus should be on getting their research to developing countries. Any tools to help information spread will be good."
Nikki Long, a College of Arts and Sciences senior, said she thought the study might have yielded different results if it had incorporated the global health and neglected disease research efforts of students.
"I'd like to see more [in the study] on student involvement, though," she said. "This is mostly faculty and researchers, which is great, but there should be something on student involvement."
Lankowski said he hopes the evaluation will motivate research institutes to change their policies.
"Universities can make this happen," Lankowski said. "The report card aims to give them a wake-up call to get moving on it."