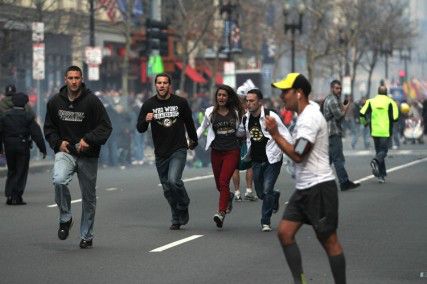 Two explosions occurred  Monday afternoon near the finish line of the Boston Marathon, resulting in three deaths and dozens of injuries.
One of the casualties was an eight-year-old boy, and Boston University President Robert Brown confirmed that a BU student was critically injured during one of the blasts, in a letter to the community. No other information of the injured has been released.
Mass. General Hospital officials confirmed they had taken in 22 patients affected by the blasts. Six of the patients were in critical condition and five were in crucial condition, said Kory Zhao, a spokesman for Mass. General. Brigham and Women's Hospital has taken in 26 patients, two of whom are in critical condition, according to hospital officials.
U.S. President Barack Obama pledged the full resources of the federal government for post-explosion assistance to both Boston Mayor Thomas Menino and Mass. Gov. Deval Patrick when he spoke to them Monday afternoon.
"We don't yet have all the answers, but we do know that multiple people have been wounded, some gravely, at the Boston Marathon," Obama said in a press conference Monday afternoon.
There was also an explosion at the John F. Kennedy Memorial Library, but this was later confirmed by BPD Commissioner Ed Davis as being caused by an incendiary device that caused no injuries. Davis said he believed the JFK fire was unrelated to the marathon explosions.
When asked at a press conference Monday whether the explosions were part of a terrorist undertaking, Davis said police authorities did not know conclusively who organized the explosions.
"We're not being definitive on this right now, but you can reach your own conclusions based on what happened," he said.
In a statement from the Boston Athletic Association — which organized the marathon — a tone of sadness was placed on an event that was supposed to hail physical and mental achievement.
"Today is a sad day for the city of Boston, for the running community, and for all those who were here to enjoy the 117th running of the Boston Marathon," according to a release on Monday evening. "What was intended to be a day of joy and celebration quickly became a day in which running a marathon was of little importance."
Some city-goers witnessed the explosion, and said the blast pushed onlookers into a panic.
"By the end of the marathon there was an explosion by the church near Copley," said Matthew Gold, 19, a student at Berklee College of Music. "There was the first explosion. Everyone stopped and everyone was silent. There was thick white smoke and I stopped my friend and then immediately, five to 10 seconds later, there was a second explosion, closer to us, towards Massachusetts Avenue."
After the first two explosions, Gold said the scene turned into chaos.
"It was pandemonium and everyone was running and trying to get in the building," he said. "I got caught between the revovling door. It was just crazy and it's a whole different point of view from witnessing it."
Corbin Johnson, 19, also a student at Berklee said he was with his friend near the Prudential Center and saw the church explode.
"People stopped for a minute wondering if that really blew up, and then another thing continuously blew up, so people thought it was going to be a chain effect," he said. "So everyone started running, it was a lot of chaos and a lot of people started stampeding on each other. We went to a hotel and from there, people were still stampeding and falling over each other. People were crying and looking for their children. They made everyone run forward away from it, but people weren't listening because they were trying to find their loved ones."
Lauren Gill, 24, a resident of Toronto and runner of the Boston Marathon, said she was stopped before she could finish the race.
"I just came up to it and it was the last mile, everything was just stopped," she said. "They had no explanation, they just made everyone stop running. They told us to walk to Beacon Street because that is where everyone would regroup."
Gill said she had another friend running the marathon.
"We love the city," she said, "It's just really scary."
A spokeswoman at the American Red Cross said they have sent more than 100 mobile Red Cross units to assist an already large presence of workers in the Boston area.