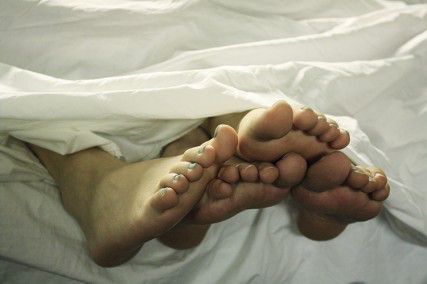 Fleeting sexual encounters with no commitment or meaning, the practice of which is referred to as "hookup culture," might contribute to a sense of unhappiness in college students, according to a new book by a Boston University professor.
Donna Freitas, a professor of religion at BU, defined "hooking up" as a brief engagement of sexual intimacy with no attachment involved in her book titled "The End of Sex," which was released earlier this month.
"During college, students should have the right and opportunity to hook up and engage in this sexually liberating experience," Freitas said. "However, a large number of college-aged students seem to walk away from hookups either ambivalent or indifferent."
Of the students surveyed, 36 percent used "indifferent" adjectives to describe how they felt after hooking up and 41 percent reported being saddened by hookups as it made them feel "sad" and "used," according to the book's research.
"Both genders seem to be pretty unhappy within a culture of hooking up … both are affected, but just in different ways," Freitas said. "… Sex during college should be exciting, and I began seeing it as an issue when I started hearing the sadness and ambivalence it was regarded with."
Freitas said hookup culture creates problems for students' understandings of romantic and sexual interactions.
"This hookup culture becomes a problem when students feel that there are no other opportunities for getting into a sexual relationship other than hooking up," she said.  "… It's problematic when people see this as their only option to engage in sexual activity."
While students should be free to explore various sexual options, hookup culture becomes dangerous when people have misconceptions of it and begin to be affected emotionally, Freitas said.
"Many people in my study felt as if they were the only people on campus not happy with the hookup culture," she said. "There is a lot of alienation, as a lot of people have a fear of speaking up."
Freitas said society can make the idea of hooking up more positive if people adjust to being more open about it.
"There does not need to be a rule, but people must see there is a range of options before them," Freitas said. "People will feel more empowered when they feel like they have more of a choice about their sex lives."
Ben Gagne-Maynard, a College of Arts and Sciences freshman, said it is important for partners to communicate in sexual situations.
"I think it is possible for a boy and a girl to leave a hookup feeling satisfied if they are under a mutual understanding of the situation," he said. "It can go very badly if one of the two feels used."
School of Management sophomore Rebecca Schwartz said she believes females tend to feel the need for a more emotional connection and are more inclined to be looking for a relationship.
"Hooking up is something we need to get out of our system before we enter the real world," Schwartz said. "But people should probably start looking for more serious relationships during their 20s."
College of Communication sophomore Shelley Ross said casual hookups seem to be more accepted among college students than among any other age group.
"In high school, it was awkward when people casually hooked up because everyone always found out," Ross said. "In college, people don't find out as easily, and although it doesn't necessarily make it okay, it is more accepted."
Ross said casual hookups are unacceptable when one of the parties involved is already committed to someone else.
"I have a friend that was with someone, and her boyfriend hooked up with someone else," Ross said. "He regrets the fact that he did this, but it still does not make it okay."