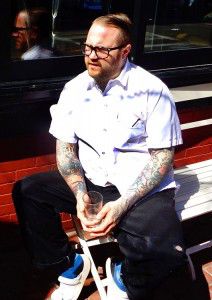 Often referred to as "the Oscars of the food world," the James Beard Awards celebrate professionals in the culinary arts. This year, three Boston-based chefs received nominations for the 'Best Chef: Northeast' award. This is the second in a three-part series profiling the chefs.
Chef Jamie Bissonnette has always been a hardcore kid.
A stocky, tattooed man who reeks of hardcore and punk culture — even in his whites — Bissonnette plopped down on a metal bench, poured us a couple of glasses of water and, with Van Halen's "Panama" playing in the background, stretched his arms and legs leisurely.
"It's so f**king nice out," he said, to no one in particular.
He may have always been a hardcore kid, but that's no problem for him. Bissonnette said he has always enjoyed making people look twice.
"I always wanted to stand out," he said. "I liked making people look at me. I didn't want to be like everybody else. I'll always consider myself a hardcore kid."
Bissonnette's personality isn't the only thing that's hardcore: His food is bold, fearless and fun, just like any good Bad Brains song. His South End, small-plate Italian restaurant Coppa specializes in head-to-tail cuisine — in other words, the parts of the pig you didn't think you could eat.
Coppa is the first restaurant he's opened with Boston's famous restaurateur and chef Ken Oringer, who is also responsible for the James Beard-winning restaurant Clio and Bissonnette's other restaurant, Toro. During his time at Coppa, Bissonnette won the StarChefs Rising Star award in 2009, was crowned champion of the Food Network show Chopped in 2011 and was nominated for a James Beard Award for Best Chef: Northeast both this year and in 2012.
But before all the success, Bissonnette was an 11-year-old kid eating scrambled eggs on his porch, watching family friends paint his house. One of the college-aged painters asked him to make him the same dish, scrambled eggs on toast with cheese, and Bissonnette happily obliged. Soon, all the painters were munching on Bissonnette's "tartine" enthusiastically, and Bissonnette realized that he wanted to cook.
He didn't directly head to cooking school, however. As a teen, Bissonnette spent his younger years playing in punk rock bands, eating vegan and choosing straight-edge living.
"I was playing in punk rock bands, hardcore bands, and after practice I kept saying things like, 'let's make spaghetti!' or 'I got some lentils – let's make curry!'" Bissonnette said. "I was a crappy musician, and eventually I realized I liked the food more than I liked the music. So I dropped out of school at seventeen and went to college to cook."
Bissonnette continued to learn what it means to be a chef throughout his tour and his years as a chef in Boston.
"I learned from everybody; from a dishwasher in a diner to a Michelin-level chef," Bissonnette said. "As a young cook, you need to just pay attention and get everything, ask questions, listen to the answers. People want to learn quickly, go to culinary school for a couple of days and call themselves a chef. But that's not how it works. It takes time."
Today, Bissonnette's years of learning have paid off. Both Toro and Coppa are wildly successful, and he and Oringer are in the process of opening a Toro in New York. Bissonnette doesn't pretend he's a great musician, but he treats every evening in the kitchen as his own performance.
"During the day you get in and you prep, and that's like the first screech of the guitar from Bad Brains," he said. "And then you've got that slow buildup, that thumping of the base drum, that dun-dun-dun-dun … and then suddenly you're opening for dinner service and it's like, 'boom.' There's energy, there's a lot of movement from the kitchen, and then suddenly it's over."
CORRECTION: The original version of this story said Bissonnette was bald, which is not the case. The article has been updated to reflect this change.