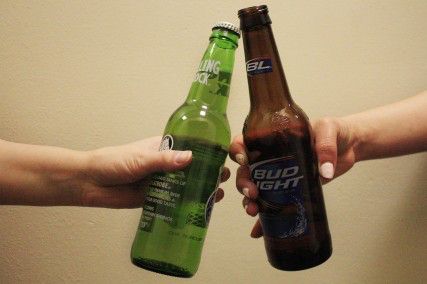 Despite older research stating otherwise, a new study suggests alcohol abuse and related deaths may be more prevalent on college campuses than previously thought, something that several Boston University students said could be reversed with increased awareness.
Students for Sensible Drug Policy President KC Mackey said in order to save students from excessive alcohol consumption, BU officials must provide more education on alcohol safety as well as make alcohol-related policies more student-friendly.
"The priority should be keeping students safe, keeping students alive and not necessarily punishing them for binge drinking," Mackey said. "There's supposed to be a pre-emptive policy that promotes responsible behavior."
Mackey said BU's alcohol policies are ineffective and must change to encourage discussion and awareness about related dangers.
Aware Awake Alive, an organization founded to educate youth about the dangers of alcohol, compiled statistics from the Dr. Ralph Hingson's "Magnitude of and Trends in Alcohol-Related Mortality and Morbidity Among U.S. College Students Ages 18-24, 1998-2005" and determined an average of one adolescent dies from alcohol overdose every 44 hours,  according to an April 18 news release.
Debra Johnson, executive director of Aware Awake Alive, said the National Institute on Alcohol Abuse and Alcoholism estimates that 600 young people between the age of 18 and 25 who die each year from alcohol poisoning, about 200 of which are estimated to be in college.
"Binge drinking right now is really a major public health problem," Johnson said. "On college campuses, one in three are binge drinking, so if you take whatever the enrollment at BU is, and you divide it by three, that's the number of people who, any day, are at risk of dying from alcohol poisoning."
Aware Awake Alive Communications Director David Wyatt said the issue of alcohol-related deaths does not get the attention it deserves because the Center for Disease Control and Prevention does not list it as a cause of death, which may highlight flaws in past alcohol-related death statistics.
"The organization [Aware Awake Alive] was started by a couple whose son, Carson, died from alcohol poisoning a couple of years ago," Wyatt said. "His death certificate doesn't say alcohol poisoning."
Additionally, Wyatt said the number of alcohol-related deaths among college students is roughly 25 percent more than that of accidental gun-related deaths in the U.S.
"Culturally, people think that alcohol poisoning isn't that common or is just due to dehydration … but we made that correlation to make a point," he said. "You know, everyone talks about gun deaths, and this is actually a bigger problem, statistically speaking."
Marlene Oscar Berman, BU professor of behavioral neuroscience, said in an email that the human brain continues to mature well into one's mid-20s, and alcohol consumption during that critical period of growth could be detrimental to development.
"Studies suggest that specific brain structures such as the hippocampus and prefrontal cortex may be especially vulnerable to the effects of alcohol and drug use during adolescence," Berman said. "So, college drinking can harm a still developing brain."
Rob Lauto, a CAS freshman, said many his friends do not take the warnings against underage drinking seriously, because they could never imagine being hurt by it.
"I haven't personally been close with anyone who has died from alcohol poisoning, but I know it's a problem," Lauto said. "I didn't know it was as big of a problem as the statistics [show] … Binge drinking is a culture in college."
Jennifer Gilbert, CAS and School of Public Health junior, said a medical amnesty program at BU could help save lives.
"Instituting an amnesty [policy] would make students make healthier decisions if they knew it would not affect their disciplinary records," she said.
Julia Heim, a CAS freshman, said the idea of others binge drinking worries her because she is unsure at what point she should intervene. She also said, at a school such as BU, the urban environment could contribute to the danger of underage drinking, which she said also included risks associated with lack of judgment.
"It's scary that people binge drink, especially when living in a city like Boston," she said. "It's important to be on your guard here because the city makes it dangerous to get home at night. I don't know at what point I should step in for their own safety."
CORRECTION: This article reported that Aware Awake Alive compiled statistics from the Center for Disease Control and Prevention. However, the information was actually compiled from Hingson's study. It also stated 600 college students die from alcohol poisoning each year. However, 600 young people die from alcohol poisoning each year, about 200 of which are believed to be in college. In addition, this article originally identified Jennifer Gilbert as a School of Public Health graduate student. However, she is a junior enrolled in both CAS and SPH in a dual degree program. The article has been updated to reflect these changes.