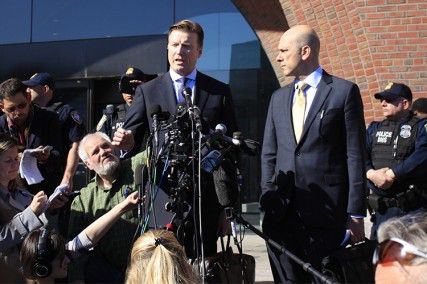 Three men were arrested and charged Wednesday for impeding the process of the Boston Marathon bombings investigation.
Azamat Tazhayakov and Dias Kadyrbayev, both 19 and residents of New Bedford, were charged for willfully conspiring with each other in offense against the U.S. and for destroying and concealing evidence by plotting to dispose of a laptop and a backpack containing fireworks belonging to bombing suspect Dzhokhar Tsarnaev, said Magistrate Marianne Bowler in court Wednesday.
The third person, Robel Phillipos, 19, was charged with knowingly and willingly making false statements to federal officials during the investigation, Bowler said.
Kadyrbayev and Tazhayakov entered the United States from Kazakhstan on student visas to attend the University of Massachusetts Dartmouth. Phillipos is a resident of Cambridge and all three suspects met Tsarnaev during school, according to a criminal complaint filed at the U.S. District Court Wednesday.
Tsarnaev is being held at a prison hospital  where he is recovering from wounds he received in a gun battle after killing Massachusetts Institute of Technology Police Officer Sean Collier and leading police in a pursuit chase into Watertown where he was later found in a boat. Dzhokhar's older brother, Tamerlan Tsarnaev, was killed in the shootout.
On April 18, authorities released the pictures of the Tsarnaev brothers and the three suspects eventually figured out that Dzhokhar was one of the bombers after seeing news reports, according to the complaint.
"Kadyrbayev then texted Tsarnaev and told him that he looked like the suspect on television. Tsarnaev's return texts contained 'LOL' and other things Kadyrbayev interpreted as jokes such as 'you better not text me' and 'come to my room and take whatever you want,'" according to the affidavit.
The three then went to his dormitory room that night and found that Tsarnaev had left. They watched some movies and then discovered Tsarnaev's backpack full of empty fireworks, which scared Tazhayakov who began to believe that Tsarnaev was part of the bombings, according to court documents.
"Kadyrbayev decided to remove the backpack from the room in order to help his friend Tsarnaev avoid trouble. He decided to take Tsarnaev's laptop as well because he did not want Tsarnaev's roommate to think he was stealing or behaving suspiciously by just taking the backpack," according to the complaint.
The trio collectively decided to throw the backpack and fireworks into the trash because they did not want Tsarnaev to get into trouble. Kadyrbayev put the backpack into a large trash bag and threw it into a dumpster near their apartment, according to the affidavit.
Investigators recovered the backpack April 26 in a New Bedford landfill. It contained the fireworks, a homework assignment sheet from a class Tsarnaev was enrolled in and a jar of Vaseline, the complaint stated.
In his first three interviews with law enforcement, Phillipos denied going to Tsarnaev's room on April 18, but then confessed to the visit during his fourth interrogation. He told federal officials that he discussed with the other two what they were going to do with the backpack, but fell asleep and when he woke, the backpack was gone, the court documents stated.
Tazhayakov and Kadyrbayev could face a maximum of five years in prison and a $250,000 fine, while Phillipos faces a maximum sentence of eight years and a $250,000 fine, said Assistant U.S. Attorney Stephanie Siegmann at the court hearing.
All three suspects waived their right to a bail hearing. Tazhayakov and Kadyrbayev will appear in court again May 14 and Phillipos's hearing is scheduled for Monday. They were placed in the custody of U.S. Marshals after the prosecutors argued that they presented a serious risk of flight.
Derege Demissie, Phillipos's defense attorney, told reporters after the hearing that Phillipos had nothing to do with the actions of Tazhayakov and Kadyrbayev and simply made a misrepresentation to federal authorities.
Tazhayakov felt horrible and was shocked to hear that he knew someone who was involved with the bombings, said Harlan Protass, Tazhayakov's defense attorney.
"He looks forward to the truth coming out in this case," he said. "He considers it an honor to be able to study in the United States, and he feels for the people of Boston who have suffered."
Robert Stahl, Kadyrbayev's defense attorney, said Kadyrbayev denied any wrongdoing.
"Dias Kadyrbayev absolutely denies the charges," he said. "He did not know that this individual was involved in the bombing. His first inkling came much later. We will be looking forward to proving our case in court."