In the midst of the media frenzy surrounding director Paul Feig's latest film, The Heat, the f-word will feature prominently.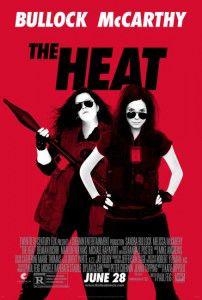 No, not that f-word, despite the deliciously crude vernacular that flitters through Feig's work, most recently in his mega-hit, Bridesmaids.
No, most articles about Feig and The Heat will discuss feminism, another crude word often censored in Hollywood. Feig is at the forefront of a small movement of filmmakers working to more prominently feature women both on the silver screen and behind the camera. Feig's latest venture, The Heat, starring Sandra Bullock and Melissa McCarthy as sparring law officials, is the first female buddy-cop film…ever.
And while many will roll their eyes at this repetitive solemnization of a summer comedy, the ratios that overwhelm the number of women to men in Hollywood is a serious issue. According to a study by the USC Annenberg School for Communication and Journalism, only 28.4% of speaking roles in 2012's 100 highest-grossing films were held by women, and an even smaller percentage of these females roles were significant speaking parts.
Despite the gravity with which Paul Feig speaks on the inequity of Hollywood, my recent interview with Feig proves that the director is anything but austere.
"Oh no, we're going to lose to White House Down, haha."
While Feig's lamentation is in good spirits, he can't help but feel a little worried; The Heat and the aforementioned $150 million male buddy-cop flick open on the same day. While The Heat was favorably bumped up to a summer release when it soared in test screenings, if previous Hollywood trends are any indication, the film starring Sandra Bullock and Melissa McCarthy will not receive nearly as many viewers as the one starring Channing Tatum and Jamie Foxx.
"The bottom line is that Hollywood only responds to money…they're not altruistic enough to care…It's really bad. It's embarrassing that it's up to me at the moment to be doing a lot of this stuff," expounds Feig.
Feig explains that his mission to feature strong female comedic leads is not only morally motivated, but also because he knows "so many funny women."
Sandra Bullock and Melissa McCarthy are two such women. In The Heat, Bullock plays Special Agent Sarah Ashburn, an FBI specialist sent to Boston to bust a Bay-state drug ring. In order to do so, Ashburn must learn to work with the tactless Boston Police Officer Shannon Mullins (McCarthy), whose street smarts Agent Ashburn needs to succeed.
Another woman fighting for screen time in Feig's comedy ring is Katie Dippold, screenwriter of The Heat. A member of the Parks & Recreation writing team, Dippold stunned Feig not only with her kindred commitment to female protagonists, but with her penchant for comedy.
"When the script came in, it was the Untitled Female Buddy Cop Comedy. And in a minute, I said, "That's it, what a great idea that is!" It was hilarious. Katie Dippold is one of the funniest writers I've ever worked with."
Yet, despite his own grassroots attempts, Feig urges that it is great stories, rather than any suffragette banners or battle cries, which will cement the omnipresence of more women in Hollywood.
"You just have to have someone telling amazing stories that are new and give great roles to women in ways [audiences] haven't seen before. It really comes down to the responsibility of the director and of the storyteller."
Feig certainly knows about telling new, amazing stories that haven't been seen before. Creator of the critically acclaimed, but quickly cancelled NBC series, Freaks and Geeks, Feig collaborated with the now prodigious Judd Apatow to write what is presently hailed as one of the top cult comedies of all time. Feig's perceptive eye also cast a group of newcomers to star in Freaks and Geeks, many of whom now dominate the comedy world, including Seth Rogen, James Franco, and Jason Segel.
"I am so proud [of them]," smiles Feig, when remarking on the tremendous success his alumni have had with their latest film, This Is The End.
Freaks and Geeks now flourishes in the immortality of Netflix, the same platform wherein another page of Feig's portfolio, Arrested Development, reigns king. Feig directed seven of the cult sensation's episodes, proving that quality television and films can triumph, even if their success comes slowly at first
"I think the Netflix model is the best model. I think it's really the future…What's saving TV these days is the embracing of serialization of storytelling…there's a great flow to doing something like that all in a row," explains Feig.
And so, as The Heat releases this weekend, one can only hope that Feig's efforts to revolutionize Hollywood reverberate, cracking the glass ceiling that currently cages women into roles created solely for men to ogle. But even if The Heat doesn't turn studioheads, if Feig's past career is any indication, triumph isn't too far off…
"As long as you always keep it about character, that's what people respond to… When you're engaged in the reality of a character, you care about what they're going through and [the audience] will follow you anywhere."
Just as we too will follow Feig.