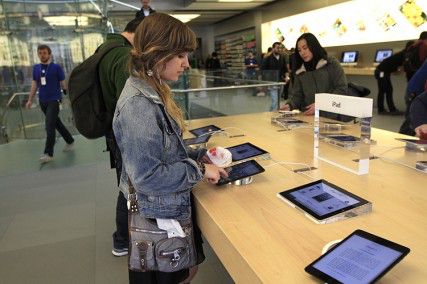 Boston University officials are suing Apple, Inc. and several other smaller technological companies for patent infringement, BU spokesman Colin Riley confirmed.
The Trustees of BU will serve as the plaintiff in the case, alleging that Apple officials illegally used and have continued to use a patent created by electrical and computer engineering professor Theodore Moustakas in 1997, according to a court complaint filed yesterday in the U.S. District Court for the District of Massachusetts. Moustakas's patent is referred to as the '738 patent in the complaint.
"The University is informed and believes, and thereon alleges, that Defendant has infringed, and continue to infringe, one or more claims of the '738 patent, in violation of [Title] 35 [of the U.S. Code] … among other things, making using, offering to sell, selling and/or importing and/or into the United States without authority or license from the University," the complaint stated.
The patent, officially titled U.S. Patent No. 5,686,738, or "Highly Insulating Monocrystalline Gallium Nitride Thin Films," was issued on Nov. 11, 1997. It stands among hundreds of U.S. patents awarded to BU professors.
Several of Apple's products, including the iPhone 5, iPad and MacBook Air, include a gallium nitride thin film semiconductor device claimed by the '738 patent in question, according to the complaint.
Apple officials declined to comment.
The complaint alleged that BU has been damaged by the improper use of Moustakas' patent, and should therefore receive monetary compensation. The complaint also stated the issue cannot be pled and must go to trial.
BU School of Law Dean Maureen O'Rourke said historically, if a patentee is successful in an infringement claim, courts have been willing to stop the production of the products in violation of the patent.
"A court might be less willing to enjoin the sale of a product if the patented item is a small part of it and instead order a reasonably royalty," she said in an email. "In either case – injunction or no injunction – a successful plaintiff is likely to be compensated for past infringement. …Patent damages are notoriously difficult to calculate, particularly again when the patented item is a small part of a larger whole."
However, O'Rourke said due to the nature of the uncertainty of the damages calculation in cases such as the one in question, the patent litigation may settle out of court.
Riley said the complaint speaks for itself and will be resolved through the legal process.
Erik Paul Belt and Kelly Gabos of McCarter & English, LLP, a law firm based in downtown Boston, will represent the Trustees of BU in this case.