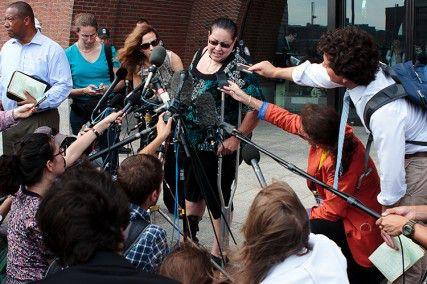 With his left arm in a cast, his face slightly swollen and wearing an orange prison jumpsuit, Dzhokhar Tsarnaev­ — the suspected Boston Marathon bomber — made his first public appearance at the U.S. District Court in South Boston on Wednesday and pleaded not guilty to 30 charges.
Judy Clarke, Tsarnaev's defense attorney, tried to enter the plea on his behalf, but U.S. Magistrate Marianne Bowler said she wanted to hear Tsarnaev answer for himself.
"Not guilty," he said seven times in a thick accent to a group of charges against him, including use of a weapon of mass destruction resulting in death, destruction of public property, carrying a firearm and carjacking.
Assistant U.S. Attorney William Weinreb read the charges and the punishments for the crimes out loud.
"The maximum penalty is up to life in prison or the death penalty," Weinreb said.
Weinreb said if the case goes to trial, it could last three to four months and the defense could expect 85 to 100 witnesses. Tsarnaev is due back in court on Sept. 23.
About 30 victims of the bombing were in the courtroom as well as Tsarnaev's two sisters, one of whom was crying and the other carrying a small child. During the seven-minute arraignment, Tsarnaev appeared distracted and often fidgeted in his seat. He became attentive when he saw his sisters in the audience, and he blew them a kiss when he was escorted in handcuffs and chains from the courtroom.
Tsarnaev, 19, and his brother, Tamerlan, allegedly laid the pressure-cooker bombs that killed three people and wounded over 280 on April 15 at the finish line of the Boston Marathon. They are also accused of killing Massachusetts Institute of Technology Police Department Officer Sean Collier when attempting to flee after the Federal Bureau of Investigation released their photos three days after the bombings.
Tamerlan was killed that night. After a shootout with law enforcement officers, Dzhokhar allegedly ran him over while escaping in a car. Dzhokhar was captured the next day hiding in a boat in Watertown after a prolonged manhunt.
Security at the John Joseph Moakley Courthouse was heightened due to Tsarnaev's hearing and the James "Whitey" Bulger trial taking place in the adjacent courtroom. MIT police officers lined up outside of the federal courthouse to show support for Collier. Supporters for Tsarnaev also lined the streets wearing T-shirts and holding signs that said "Dzhokhar is innocent" and "Justice for Dzhokhar."
Lacey Buckley, 23, resident of Washington state, said she believes Tsarnaev is innocent.
"Where is the proof that he actually did this?" she said. "The FBI has not come out and shown us any evidence. They have nothing."
MIT Police Chief John DiFava said he supported the death penalty if Tsarnaev is found guilty.
"Disconnecting myself from my profession, yes, he deserves it," he said. "I didn't see the remorse, the fear or the nervousness that I thought I would see in somebody in this situation."
Some bombing victims spoke to reporters after the arraignment and said they had mixed feelings seeing Tsarnaev in person.
Liz Norden, a resident of Wakefield with two sons who each lost a leg during the explosions, said being in the courtroom was tough for her.
"Hearing his sister cry made me angry," she said. "I actually felt sick to my stomach."
Norden said she could not sympathize for Tsarnaev's sisters.
"Look at what he caused," she said. "How dare they cry and look at what he did to all these people."
Peter Brown, Norden's sister, said he came with his sister to the arraignment for all the other victims who could not be at the trial.
"We're here to support our boys," he said. "They're recovering, determined to get better. Our thoughts are with all the victims and the survivors."
Mildred Valverde, 44, a resident of Somerville and bombing victim who had damage done to her legs, said seeing Tsarnaev for the first time was upsetting.
"He turned and looked at his supporters and kind of had a smirk on his face," she said. "It was upsetting."
Valverde said she is not supportive of the death penalty and wants Tsarnaev to remain in prison.
"I think death is too good for him," she said. "He should be made to suffer in jail for the rest of his life."