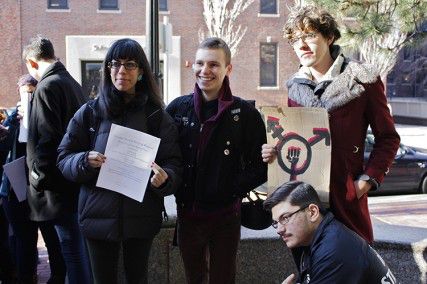 After Boston University officials announced in August that gender-neutral housing will now be available, students across campus expressed excitement for the BU community but also voiced concern that freshmen will not immediately see benefits.
"I was glad to hear that the administration was making students' well-being and safety a priority," said Ileana Tauscher, a School of Management senior and Center for Gender, Sexuality and Activism public relations coordinator.
BU Student Government presented the original proposal for gender-neutral housing to the administration during the spring 2012 semester, but BU officials abruptly halted the initiative in December. The administration's decision sparked concern amongst some students. As a result, student activist group Gender Neutral BU was formed.
In May, the Student Life Committee considered a new gender-neutral housing proposal. It was brought to BU President Robert Brown's office after a student protest took place in the same location. On August 13, the administration announced Brown's approval of the University Council recommendation for gender-neutral housing.
While some students may feel more comfortable living with a student of the opposite sex or an individual outside the gender binary, many students might benefit from having gender-neutral housing as an option, Tauscher said.
"There is no specific type of student that GNH is meant to serve," she said.
Gender-neutral housing will not be available for students in large dormitory-style residence halls with communal bathrooms, such as West Campus, The Towers, Myles Annex and Warren Towers.
While students were not able to select gender-neutral rooms during this housing cycle, Dean of Students Kenneth Elmore said in May that students will be able to directly swap rooms regardless of their gender identities during the fall 2013 semester.
College of Arts and Sciences sophomore Melanie Kirsch said she is concerned freshman will not have the option of choosing gender-neutral housing.
"The first year is the most important component in establishing that feeling of home," Kirsch, who also serves as Assistant Center Manager of the CGSA, said. "If freshman need GNH but are not able to [choose it], what else is their option?"
Despite these concerns, Kirsch said she is optimistic about the future of gender-neutral housing.
SMG senior Caitlin Seele, who wrote the original gender-neutral proposal as a SG senator for SMG in the spring semester of 2012, said she was excited to hear about the success.
"I think I speak for myself and [anyone] who has been directly involved in this proposal, the Student Government and all interested students, in saying that the formal introduction of a GNH option at BU is extremely exciting and something that really makes BU a place where all students can finally feel happy, safe and accepted in on-campus housing," Seele said.
She also said she expects any students who would like to live with someone of the opposite sex to consider gender-neutral housing as an option.
"One of the main points of this proposal was that no student should have to explain why they would like to enter a GNH housing assignment," she said. "The student body will be able to handle this new option responsibly no matter their reasoning."
College of Communication senior Cherice Hunt said she is pleased with the news and expects that most other students will be, too.
"More people will be happier where they live at BU," she said. "It's wonderful."
Hunt said she has no major concerns about the limited availability of GNH.
"Right now it's offered very narrowly with a lot of potential to grow," she said. "In the meantime there could still be students not happy with where or who they live with. Hopefully this will change soon as GNH expands."
COM junior Kim O'Connell said gender-neutral housing is an important option for students to have to feel truly safe at school.
"Let's say I'm a girl, and I want to be living with a guy — I don't want to be living on my own or with someone I don't know," she said. "I need to have that opportunity."
Students should be able to freely choose their roommates regardless of their sex, O'Connell said.
"If you are at an age where you are living on your own, you should be able to pick who you are living with, whether they are male or female," she said. "That's not the university's decision. We're adults. That should be something that we have control over."