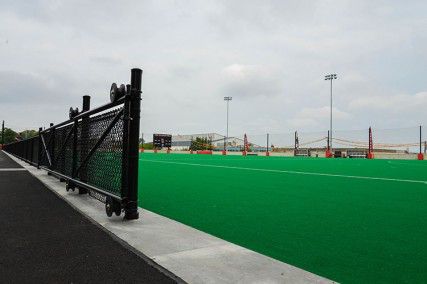 New Balance Field, located at the corner of Babcock Street and Ashford Street, is officially open for varsity, club and intramural sports beginning this fall sports season, officials said.
Assistant Athletic Director for Communications Brian Kelley said the addition of the extra field space on campus will give certain club and intramural teams a home field. Prior to the construction of New Balance Field, Kelley said several sports teams had to travel to fields around Boston to practice and play due to a lack of available field space at BU.
"This addition [of New Balance Field] became a priority for the school a few years ago," Kelley said. "This benefits them [several teams] , as they now have the ability to schedule whatever time they want. Before this [construction],  they were at the mercy of other schools' [field] availability."
In addition, Intramural and Club Sports Manager Scott Nalette said due to the new field space, the Department of Physical Education, Recreation and Dance is now able to recognize certain club and intramural teams they previously could not.
Nalette said existing teams such as men's and women's rugby may now be able to host home games on campus. Additionally, he said PERD may now add new club and intramural sports teams, such as men's cricket.
"Those teams may not necessarily be playing on New Balance Field, but we can now move intramural sports to New Balance, so we can allow teams such as men and women's rugby and men's lacrosse to play on Nickerson," Nalette said. "It [New Balance] allows us the flexibility to move things around, and have more of our athletes on campus."
In particular, Nalette said this new field space will benefit BU's field hockey team immensely. He said this team has been forced to practice and host their home games on fields at MIT, Boston College and Harvard University for the past 11 seasons.
Sally Starr, head field hockey coach, said her team used to spend two hours a week transporting to different fields for games and practices. Starr said she is now able to substitute transportation time for extra practice time, which has already proved beneficial in the preseason.
"On off days, the girls are now able to go out [on the field] and hit around on their own and work on some skills," Starr said. "I love the fact that the girls are able to do that now … It is little things like that that will make us that much better."
Starr said her team has not had a home game for about 12 years, and, as a result, has not enjoyed home-field advantage. The Terriers won their first home game 5-1 on Aug. 31 against Ohio State University. This game marked the official opening of New Balance Field.
Mike Lynch, assistant vice president and director of athletics, said about 5,000 students involved in a club or recreational team will see benefits from this new field space. He also said it will impact the entire campus, as it has completely changed the area around Babcock Street.
Lynch said officials at New Balance Shoes and Apparel saw an opportunity to improve the neighborhood surrounding Babcock Street, and thus gave BU a naming grant for the field. BU also received a number of funds from interested alumni for the construction.
"To every student who comes this way, it looks like a completely different piece of campus," Lynch said. "The field looks beautiful. Although it is not done yet, there will be a small sitting area with benches and trees replacing the old parking lot and decrepit building that used to sit there on the edge of campus."
Lynch said New Balance Field is a state-of-the-art sporting facility with several unique and sustainable features. These features include rainwater harvesting, drip irrigation and storm water management. Additionally, this field is equipped with a fully operational digital score board, lights and seating for about 500 people.
"[New Balance Field] just doubles the amount of green space that we have on campus and it will provide a great space for many of our club and recreational teams," Lynch said. "We are all really excited for our first game on the field this weekend."