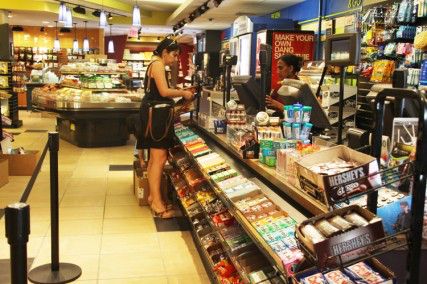 Despite rumors dating back to the fall 2012 semester that the fast-food chain would come to campus, BU Dining Services has confirmed that a Taco Bell will not be opening inside the City Convenience under Warren Towers due to costs being above previous projections
BU spokesman Colin Riley said BU officials anticipated they would be able to adjust the store layout of the Warren Towers City Convenience while the above garage was renovated this summer. However, after BU officials recalculated the time and cost for the project, adding the Taco Bell became impossible.
"Unfortunately, they had to discontinue looking at the Taco Bell within [Warren Towers] because the schedule came on too tight," Riley said. "They [the garage renovations] were more work than we [BU] had anticipated, which made it more difficult to complete in time to include the Taco Bell."
Riley said the final cost of doing a build-out in the City Convenience at 700 Commonwealth Ave. came in above BU's original projections. He said although a Taco Bell was not added to this location, the interior of the City Convenience was still renovated this summer.
"There have been improvements to the convenience store," Riley said. "The cash stand was moved closer to the entrance and exit and [there is now] a self-service beverage bar."
Riley said BU officials are still looking for alternative locations for a Taco Bell on campus, but a possible new location has not yet been identified.
Jonathan Huang, a College of General Studies sophomore, said he was disappointed when he learned that a Taco Bell was not opening in City Convenience, as it would have added to BU's campus.
"When BU said they were going to put in a Taco Bell, I thought they were going to keep up with that promise because it is something big," Huang said. "I think a lot of students would have gone there, especially late at night."
Huang said BU officials should add more alternative dining options to campus as it is important for students to have a variety of food to choose from when they do not want to eat in the various dining halls or at the George Sherman Union.
"They [BU] needs to have food options for everyone," Huang said. "For example, if we don't want to eat during 'Make a Difference Monday' then we should have another choice. I love Taco Bell. BU should really get it … I'm being serious."
Seamus Ryan, a Sargent College of Health and Rehabilitation Sciences freshman, said Taco Bell would have been a good late-night dining option for students, especially on Fridays and Saturdays.
"There should be more late-night dining options, because my friends and I eat later than most," Ryan said. "If we are looking for food at 12 a.m., currently some of our only options are Extreme Pita and T. Anthony's."
Although Ryan said he likes the idea of more fast-food options on campus, he said it is a good thing that Taco Bell is not coming to BU as having it available would go against BU's efforts to encourage healthy eating habits on campus.
Victoria Pache, a School of Management sophomore, said she was happy to hear that Taco Bell is not opening on BU's campus because she is disgusted by the quality of the food.
"I think we need more quick and healthy food options on campus," Pache said. "I don't understand why BU would add more [bad food] on campus … We already have Rhett's."