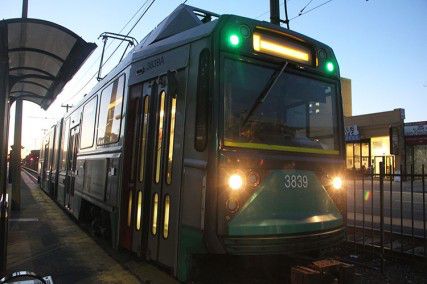 Seeing more than half of its federal security funding cut, the Massachusetts Bay Transportation Authority received only $3.25 million in federal funds in 2013 compared to the $6.6 million it received in 2012. Randy Clarke, senior director of security and emergency management for the MBTA, said a decline in funding was expected because it follows a trend of national security funding cuts to transit agencies across the board.
"Between sequestration and all the budget constraints that the federal government has, I think it's safe to say all transit agencies were assuming that grant funding would not be as robust as previous years," he said.
Clarke said MBTA officials applied for more than $15 million in U.S. government grants for 2013.
Although the drop in funding is substantial, MBTA spokesmanJoe Pesaturo said it would not affect staffing levels that are funded from different sources within the MBTA's budget.
"Safety and security remain top priorities," he said in an email. "The reduction in [U.S. Department of Homeland Security] funds will have no impact on police staffing levels nor ongoing security improvements projects."
Although the funding cut will not have a specific impact on any security program, Clarke said overall security measures would be affected by the drop in funding.
"[The DHS] funds things like emergency training, drills and exercises, video surveillance and security systems," he said.
However, Clarke said funds received in previous years are still available, which will help offset the drop seen this year.
"We still have funding from previous years that is not fully extended yet, and every year it's part of an overall program, so it will impact some of the projects we wanted to do," he said. "But it will not have a direct impact on our overall program mission or on  how we're working on security improvements across the MBTA."
With previous funding still in place and current security plans still on track, Clarke said he is optimistic that the MBTA's security measures will continue to be adequate.
"We wish we got more [funding], but we're also pragmatic about the whole federal budget situation," he said. "We're grateful to get the funding that we got, and we're moving forward on continuously improving the security of the T."
Some riders of the MBTA said they do not see the cut in security funding as an important issue.
"I don't really think they should get more funding for security," said Alberto Espinoza, 26, a makeup artist from Boston. "It's pretty safe. I've never had any issues for the three-and-a-half years I've been in Boston."
Other people said security should be an important issue that the MBTA deals with in order to prevent crimes on public transportation.
Matt Conway, 26, a tax accountant who lives in Brookline, said there might be a need for more funding to keep the MBTA lines safe in light of the Boston Marathon bombings in April.
"I feel safe, but I can see it [security] being an issue," he said. "When you think about how Boston just had the bombings, maybe we should up the funding for security.
Conway said the issue of security funding for the MBTA is precarious  because of federal funds and residents' taxes.
"It all comes down to what people want to pay for," he said. "You might blame the federal government for cutting their funding, but the reason why they had to cut their funding is because people don't want to pay as many taxes."