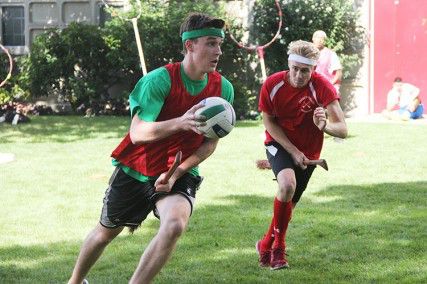 Primarily due to liability issues, the Student Activities Office can no longer officially recognize or provide funding to Boston University's Quidditch team, officials said. However, some members of the Quidditch team have raised concerns with the circumstances.
Despite SAO officials' claims that BU does not exploit the team for commercial gain, BU Quidditch Secretary Brett Engwall said he still sees pictures and videos of the team around campus.
"We know people give tours using our club as a promotion on campus, and we're also in some of the buildings with pictures and videos," Engwall, a College of Arts and Sciences junior, said. "We would like to fully complete that association — where it's not just a mask of them [BU] saying, 'Come check out the Quidditch team' when we're really just entirely on our own."
Assistant Dean of Students John Battaglino said BU Quidditch quickly evolved from a social organization to an athletic activity, and that SAO is currently not prepared to recognize BU Quidditch as a club sport.
"A club sport requires the right medical attention and an advisor," Battaglino said. "The sport of Quidditch will need some governance to implement some rules and regulations that will protect our students. It really does come down to a flat-out safety issue."
Battaglino said there are certain safety regulations that need to be in place for the team to become a club sport. He said since the current rules of Quidditch do not comply with such regulations, they are not eligible for recognition or funding from BU.
However, Battaglino said when BU Quidditch was recognized as a social club, demonstrations and advertisements were used around the university to illustrate the creativity and dedication of BU students.
"Quidditch was one of those things a few years back that was really interesting," he said. "It had a good fun story, it was quirky, and we loved talking about it because it said a lot about BU students … It's an intellectual challenge — it's a little bit quirky but fun."
Engwall said BU Quidditch does hope to become affiliated with BU again. While the team is entirely made up of BU students, the university does not provide the team with any support or funding due to the game's contact nature.
"The issue with making [safety] compromises is that the International Quidditch Association has its own set of rules that we have to abide by," Engwall said. "… I don't know how much leeway there is with us changing the physicality of the sport."
Max Havlin, president of BU Quidditch, said team members were told this summer they would no longer receive funding but were not given a substantial explanation.
"We only found out [why] because we went to them and we found out from SAO," Havlin, a CAS senior, said. "As far are we understand, it is more of a liability issue because Quidditch is very physical, as it takes aspects of rugby."
Last year, even before being dropped by SAO, the Quidditch team ran into other problems. Chris Schretzenmayer, a College of Communication senior, said the team tried to practice as an unofficial organization off campus in Brookline, but police would not allow them to practice on public space.
"The police and the City of Brookline told us that we were an organized group, but then when we tried to practice on campus, the campus and the university told us that we are not an organized group or sport," Schretzenmayer said. "So we are in a weird limbo where we can't find practice space because these two opposing forces view us as totally different groups."
Schretzenmayer said Quidditch is regarded and well known among BU students, and therefore should also be recognized by BU officials.
"We're one of the best teams in the country … everyone on campus knows we have a Quidditch team, and they're kind of obsessed with it," he said. "… It's a lot of fun, and the fact that we kind of have that recognition from the student body but we don't get that kind of recognition from the school itself is kind of disheartening."