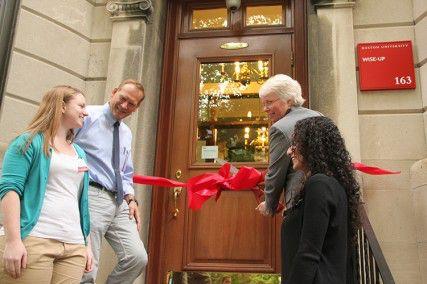 Upperclassmen in the Women in Science and Engineering program at Boston University now have the opportunity to continue living in WISE specialty housing at 163 Bay State Road. The freshman WISE specialty housing is located in Warren Towers, but students have been pushing for an upperclassman equivalent.
Students, faculty and alumni were all invited to a ribbon cutting ceremony Monday to celebrate the opening of the new WISE-UP house on BU's Charles River Campus. The WISE-UP House provides students with a community which fosters and develops the growth of emerging female scientists and engineers, said University Provost Jean Morrison at the gathering.
"It [WISE-UP House] is going to form a basis for a real community as you work to establish yourselves as scientists and researchers and mathematicians and biologists," Morrison said. "The community of scholars like you who are interested in the same things and who are pursuing the same goals will be a tremendous help."
Morrison said although WISE subjects are difficult fields of study, living with friends and classmates with similar interests will help students through their academic careers.
"It is a very challenging — but nonetheless very rewarding — field of study," Morrison said. "The friends you make [at WISE-UP] will likely be friends and important colleagues for the rest of your lives, so it's an extraordinarily valuable opportunity."
BU physics professor Bennett Goldberg explained that research shows women who lived in the freshman WISE community in Warren Towers are 50 percent more likely to graduate with a degree in the science, technology, engineering and math fields than those who lived elsewhere. They are also 30 percent more likely to graduate from BU than those who did not.
Goldberg said there has been a demand by the freshman in WISE at Warren Towers for the opportunity to continue living in a similar environment as upperclassmen over the years. Goldberg said BU officials responded well to the idea of a WISE-UP house. The approval process took about two years.
"It's a great group, and they are excited to be here," Goldberg said. "We also have a lot of really engaged role models from the STEM [science, technology, engineering and mathematics] women faculty, and I think in this whole process, the thing that I love the most  is how much everyone was so positive and engaged in making it work."
Iriny Ekladious, the WISE-UP house residential assistant, said she constantly sees her residents interacting with each other as mentors, friends and classmates.
"I can tell that the residents are really enthusiastic about being here, about what they do, and about thinking about their career options after their undergrad careers," Ekladious, a second-year College of Engineering graduate student, said. "They definitely support one another because many of them are in the same classes."
Ekladious said living in the WISE-UP speciality house will provide residents with a formal academic support system through the various programs and seminars residents will be able to attend.
"We are planning on doing a mentoring program, where our residents get paired with a graduate student that is in a STEM field," Ekladious said. "We are also going to have career panels and educational seminars."
Gianna Gibo, a College of Arts and Sciences sophomore, said she lived in WISE housing in Warren Towers last year and is glad she can continue to live in a similar environment.
"WISE at Warren was definitely a growing experience," Gibo said. "I really like the community of girls [at WISE-UP] — we are all willing to work together, and since we all have similar classes it is really good to have 'study buddies' and whatnot."
Julie Williams, a CAS freshman, said she finds living in the WISE-UP house to be intellectually stimulating.
"It is nice to have such a big support system, because I know everyone around me is in the same situation as I am," Williams said. "We learn from each other's ideas, even if we're not doing the same things. For example, there are not many people doing physics like I am, but I can learn from the engineers."
CAS sophomore Nikita Jain, said she moved into the WISE-UP house with a few friends she made last year in WISE at Warren Towers. She said she likes how she lives amongst people who share similar interests at WISE-UP.
"One of the things we all enjoyed at WISE [in Warren Towers] was that we all took similar classes, and if we were stuck we could always knock on someone's door, and we could all freak out about a huge test together," Jain said. "A bunch of us moved in together [to the new house] … and it has become kind of like a family."