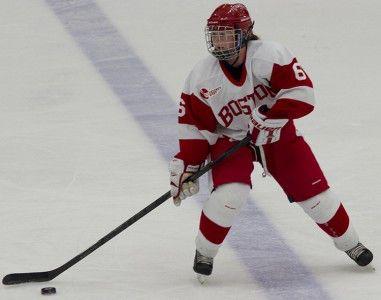 Boston University women's hockey coach Brian Durocher announced Tuesday via media teleconference that senior defenseman Shannon Doyle will miss the 2013-14 season with a torn labrum.
Durocher said Doyle played under a considerable amount of pain last season, and she will likely undergo two surgeries to repair the tear. The surgeries will make her unable to play this season as BU looks to return to the Frozen Four for the third time in four seasons.
It is a significant loss for the Terriers, who were selected in a coaches' poll to finish second in the Hockey East this season behind Boston College. Doyle made up half of the team's top defensive pair last season, along with current junior Shannon Stoneburgh. With a league-high 89 blocked shots, Doyle was named a Hockey East First Team All-Star and New England Division I All-Star.
Doyle also had some success on offense, tallying a career-high six goals and 18 assists. In last year's national championship game against the University of Minnesota, Doyle contributed an assist as the Terriers fell 6-3. She also had a four-game point streak during postseason play and notched a point in five of the Terriers' six postseason games.
Though Stoneburgh, who was named last year's Most Improved Player, and senior assistant captain Kaleigh Fratkin return as top veteran defensive contributors for BU, Doyle's absence will leave a void for the defending Hockey East Champions, Durocher said.
"She's the leader of our defensive corps," Durocher said. "That makes us just a whisker weaker than we were."