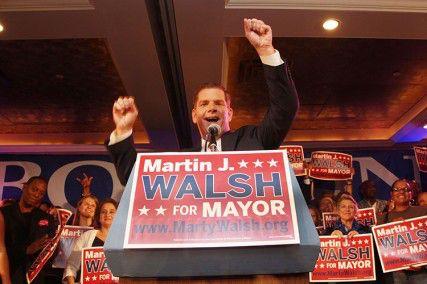 Narrowing down the field from 12 candidates to two, Mass. Rep. Martin Walsh and City Councilor John Connolly advanced from Tuesday night's primary to the Nov. 5 mayoral election as they square off for the seat to replace Boston Mayor Thomas Menino.
Walsh came in first, garnering 20,838 votes, or 18.47 percent, and Connolly came in second receiving 19,420 votes, or 17.22 percent, according to statistics by the Boston Elections Department. Former city housing chief Charlotte Golar Richie came in third and Suffolk County District Attorney Dan Conley came in fourth.
Walsh, 46, resident of Dorchester, worked as a union laborer before being elected to the Massachusetts House of Representatives in 1997 and continued to remain active in labor union affairs.
"This is a race about who we are, about values, and about whether Boston will be a city for all its people in every neighborhood, not just some," Walsh said at his election party at Venezia's in Dorchester on Tuesday night. "I'm so grateful to all the people who made tonight's result possible. Tonight's a great start, but it's only a start, and we have a lot more work to do over the next six weeks."
Menino announced on Mar. 28 that he would not run for re-election after several ailments landed him in the hospital for more than eight weeks. Menino has served 20 years in office. He first took the position in 1993.
With Menino leaving, Walsh said Boston is entering a new era and he wants to help everyone usher it in together.
"What makes this election so big, and so important, is that after two decades of Mayor Thomas Menino and his trusted leadership, we are stepping into a new era," he said. We recognize the next 20 years will be different from the last — new problems, new opportunities and new challenges."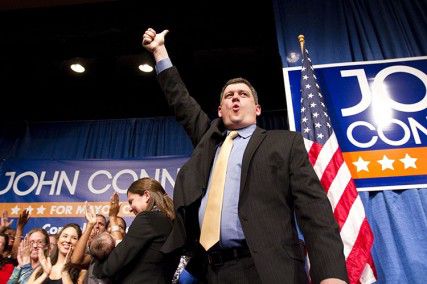 Connolly, 40, father of three children and a former schoolteacher, made education and reforming the Boston Public Schools system a focus of his campaign.
"I have never been so glad to be in second place in my life," he said at his election night party at the Hibernian Hall in Roxbury. "This campaign is the face of Boston, and we are working together for Boston's future."
He was first elected to the city council in 2007 and was the only candidate to officially declare he was running for office before Menino announced that he was not seeking re-election.
Connolly said he grew up in a very different city, one that was "deeply and bitterly divided along class and race lines."
"I received the best this city had to offer, but I was always mindful that so many in our generation did not," he said. "My time in the classroom gave me the desire to work for a city … which recognizes that we are stronger for our diversity, for our different walks of life, our different languages, our different cultures and the different places we come from before we call Boston home. We are stronger for our diversity."
Also on the ballot, residents voted for candidates running for city councilor at-large and for a city council candidate to represent their respective districts. Because City Councilor Mike Ross, who represents Boston University's district, decided to leave his position to run for mayor, residents voted for a new councilor to represent District 8 in the preliminary election.
Josh Zakim, who garnered 2,691 votes, or 45.33 percent, and Michael Nichols, who received 1,619 votes, or 27.27 percent, will continue on to the election in November for new District 8 councilor, according to statistics by the Boston Election Department.
Despite not moving on to the November election, Conley thanked his supporters for all their hard work and dedication to his campaign at his election party at the Seaport Hotel in South Boston.
"Speaking with you, listening to you, hearing your hopes and dreams, your fears and concerns, has been one of the greatest experiences in my life," he said. "It's been a gift and from the bottom of my heart. I'm so grateful to the people of Boston for the gift that they have given me."
The other candidates in the race included City Councilors Felix Arroyo, Rob Consalvo, Mike Ross and Charles Yancey, former Boston Public School committee member John Barros, TOUCH 106.1FM co-founder Charles Clemons, Community Organizer Bill Walczak and former teacher David James Wyatt.