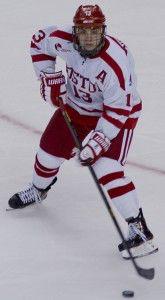 The Boston University men's hockey team was ranked sixth in the annual Hockey East men's preseason coaches' poll Tuesday, which is the program's first time finishing outside of the top four since 2005.
"The strength of our league is the depth, especially when you add a team like [No. 7 University of] Notre Dame to it, and then next year [University of Connecticut] coming to the league," said BU coach David Quinn. "It's a challenge night in and night out in this league. I've played in it. I've coached in it. I understand that.
"It's going to be the team that stays healthy, the team that gets some breaks, the team that has great leadership and great goaltending. Those are the teams that are going to have a chance to have success, and we're hoping we're one of them."
The Terriers, who earned 67 points in the voting, are behind No. 1 University of Massachusetts-Lowell and No. 4 Boston College, who are tied atop the Hockey East coaches' poll with 104 points apiece. Lowell, which is coming off its first Hockey East regular-season and tournament championships in program history, received seven first-place votes. BC, which has been atop the preseason poll for six straight seasons now, received four first-place votes.
Hockey East newcomer Notre Dame enters the league with big expectations, as it is tied for the No. 3 spot in the league with No. 13 University of New Hampshire. No. 15 Providence College, which has made it to the Hockey East semifinals two years in a row, was ranked fifth. Behind BU in the coaches' poll were Merrimack College (54 points), University of Maine (45 points), University of Vermont (34 points), University of Massachusetts-Amherst (32 points) and Northeastern University (28 points).
Last season, the top five teams in the league were separated by two points by the end of the regular season, as there was a three-way tie for third place at 32 points. Merrimack, who finished in sixth place in the conference, was only five points behind league champion Lowell.
"Those polls … we do them because people like to talk about them," said Hockey East commissioner Joe Bertagna. "The coaches hate them. They are either ranked higher than they think they should be or lower than they think they should be. I'm sure Norm isn't happy with being the number one team in the country as that is one more thing he has got to manage with his players.
"So David [Quinn] is probably in a pretty good position where he doesn't have to worry about the kids getting a big head right now and he can probably use that to his advantage, even though my guess is he thinks he has a better team than that. He is probably one of those coaches that likes where they placed him."
The Hockey East media poll was only slightly different from the coaches' poll, as it put Lowell at the top spot in the league ahead of BC by 19 points. Notre Dame was ranked third, followed by Providence ranked fourth and UNH ranked fifth. From there, the polls were identical, with BU receiving one first-place vote.
Still, the parity in the league was prevalent in both polls, as there was not much separation between the top seven teams.
"Before it was always BC, BU, New Hampshire and Maine," said BC coach Jerry York. "Our league has gotten stronger. It produces these contenders and now you bring in Notre Dame, who's right in the mix. This might be the strongest the league has been
"If you want to contend in our league, you have to be very good. Good's not going to cut it."