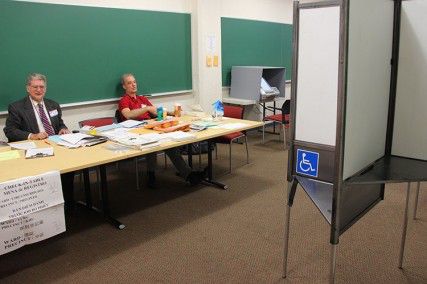 Boston is faced with an election conundrum: Perhaps more notably than any other major American city, a significant portion of the Hub's populace are students from other states that are not registered to vote in any Boston or Massachusetts elections.
Boston University officials — along with many politicans — recommend students vote in Boston-area elections because the outcomes directly affect them.
"It's important for students to participate in local elections, like the Boston mayoral race, because BU is now your home," said Assistant to the Dean of Students Katherine Cornetta on behalf of DOS. "It's your home for four years. Even if you study abroad for a semester, you're still spending the majority of your time here in the city of Boston."
BU students living on campus who are registered to vote in Massachusetts will have access to on-campus polls for the November mayoral election, Cornetta said.
Although many students are not registered to vote in Boston elections, their daily lives are affected by policies and candidates decided in local elections, she said.
"By college students not being engaged in the voting process, it actually hurts them, because they end up having less of a say in policies and procedures around Boston," Cornetta said.
College of Arts and Sciences professor Graham Wilson, chair of the political science department, said it is important for students to have their voices heard in local elections.
"There are all sorts of policies that take place at the local level that affect students, ranging from safety in apartments, city inspections … to basically how receptive people in the city government are to the needs of the university and its students in general," he said.
Participation in the upcoming mayoral election is especially relevant, because the winner will replace longtime Boston Mayor Thomas Menino, Wilson said.
"[This is] the first contested election for a long time," he said. "Mayor Menino has been in a really strong position, been pretty respected in his performance, so we haven't had many serious challenges in the past."
Because there are so many colleges in Boston, students in the area have the power to protect their rights and make a significant difference with their votes, Wilson said.
"We have the potential to be a much more powerful block," he said. "There are a lot of students here in Boston."
College of Engineering sophomore Andi Ellis, a resident of Seattle, said she is registered to vote in Washington state because she was in high school when she turned 18 and decided to register.
"Because I've lived in Washington my whole life and I know the community where I grew up really well, I feel like I am better [at] representing that region than I am at representing Boston," she said. "I haven't lived here very long, and I don't know a lot of the policies."
Ellis votes in local-level elections in Washington via absentee ballot. While many college students are most interested in voting in large elections, such as presidential races, their votes have more of an impact in local elections, Ellis said.
"The more locally you vote, the bigger impact your voice has," she said. "You can elect people … then their voice has a larger impact, and they can represent you the way you want to be represented."
CAS senior Chelsea Quezergue, who is registered to vote in her home state of New Jersey, said she is not surprised many BU students are not registered to vote in Massachusetts.
"Things in general that require some sort of registration, like voting or getting your permit or license — people just tend to do that stuff when they go home over break," she said.
Sargent College of Health and Rehabilitation Sciences sophomore Priscilla Suzal-Wright said she is registered to vote in her home state of Florida.
"I probably should be registered here since I live here for the majority of the year," she said. "However, that's my hometown. That's where I'm from. That's where my family is. For me, it's more important to be registered there."