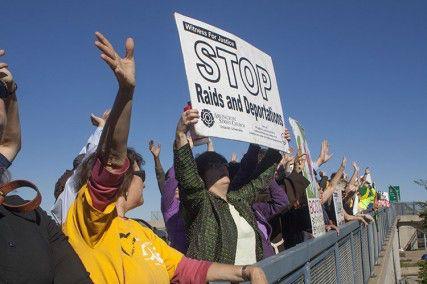 In a movement that has been ongoing for several years, about 50 people gathered in front of the Suffolk County House of Corrections on Sunday to protest unfair treatment of imprisoned immigrants.
"We're here because of unsanitary conditions [for inmates]," said Peter Lowber, organizer of the event for The Boston New Sanctuary Movement. "The vigils out here have given them strength to do what they're doing. So being out is important because it does give that strength. It shows that solidarity. It helps them, so it's very important."
BNSM organized the vigils in response to a letter of complaint sent on Tuesday to corrections officials by nearly 40 inmates who are detained by Immigrations and Customs Enforcement. The letter threatened a hunger strike if their demands for better living conditions were not met, but the strike was canceled after a protest on Thursday.
Officials for the House of Corrections were not available to comment.
Members of several organizations, including BNSM, Black and Pink, Centro Presente and the Boston Workers Alliance, spoke to the crowd and addressed the poor food quality, medical care and visitation rights of the ICE inmates.
After an introductory prayer, Jose Palma, lead organizer for Centro Presente, an advocacy group in favor of Latin American immigrant rights, said the U.S.'s difficult naturalization process puts people in prison unnecessarily.
"I came here [to the U.S.] in 1998, and since that time, I still don't have a permanent residence and I still don't know if I will ever be a citizen," he said. "We are a light of hope for many people in the shadows, [for] many people who are living in the dark so the system won't recognize them and put them away."
Sunni Ali, a representative from BWA, said a petition he is gathering signatures for would make the state government use taxpayer money to create jobs for immigrants rather than for prison funding
"Why would you want to take our money and build more jails and prisons for people who don't have jobs, for people that are underemployed, for people that are targeted to be put in prison?" he said. "[We] could employ 10,000 people over a 10-year period at a liveable wage, so why would you ever use that money to build more prisons? It doesn't make any sense."
After the speakers finished, the group walked around the jail, chanting support for the inmates. They went from the front parking lot to the rear of the building near the Massachusetts Avenue Connector. They stopped there and held up signs for the inmates who waved and banged on their windows in response.
Greg Caplan, 63, a resident of Boston, said the protests were worth the effort because they gave inmates a voice.
"Raising public awareness and political pressure, that's key with this," he said. "It's a great thing that everyone's doing this. The world we live in has been very supportive."
Ingrid Johansson, 67, a resident of Brookline, said many of those in prison did not deserve to be there, so protesting was necessary.
"This whole situation feels like those [jail] windows," she said. "They can see out at us, but we can't see in, and that's the problem. Only they know what's happening, but we have to somehow be their voice."
Hank Reisner, 63, a resident of Boston, said the primary goal of the protests was not to fight the people who make the rules for prisoner treatment and acquisition, but rather to correct them.
"People inherently mean well, and even those who support policies that hurt others, they believe they're doing the right thing," he said. "They're making mistakes though, or they are doing it out of ignorance. For this, they're saying that if something has the potential to be unsafe, we should lock it up. That sounds nice, but there's no end. It's inherently flawed because there's no way all these people [immigrants] are unsafe."