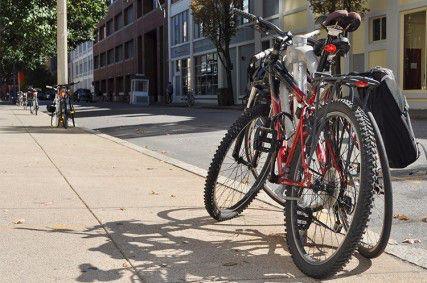 After a long series of bike thefts around campus, the Boston University Police Department officials took measures that led them to catch a suspected bike thief on Thursday, said Scott Paré, BUPD deputy chief and deputy director of public safety.
BUPD officials recently implemented "bait bikes" at strategic locations around campus in hopes of luring in bike thieves, Paré said. The bait bikes are disguised as regular bikes, but are loaded with GPS trackers and loosely locked on racks.
"One of the first thefts took place at 595 [Commonwealth Ave.]," Paré said. "In this case, they [police officers] actually saw the suspect take out a pair of bolt cutters from a backpack and snip the lock. They [the suspect] got on the bike and started pedaling down Commonwealth Ave."
Police officers arrested the individual responsible this theft.
Paré said after BUPD officials investigate Thursday's arrest, they will look at the thief's criminal history before they decide on the appropriate punishment for the crime.
"Obviously, the court always looks at their record when they take action," Paré said. "But usually if they have no record, they'll be put on probation and receive a fine."
Paré said BUPD has increased the bike parking spaces on campus from 1,500 to more than 3,500. Based on the increase of bikes on campus and the success of the first bait bike arrest, BUPD will continue to implement bait bikes as long as bike thefts persist around campus.
Wesley Fan, a College of Arts and Sciences junior, said students should be better educated on how to properly lock up their bikes as well as which locations to avoid.
"I have had three bikes stolen, which is now why I longboard," Fan said. "… I can carry the longboard with me, as opposed to a bike, which, if you just leave it for 10 minutes, could be gone."
Fan said he has spent around $3,000 replacing stolen bikes in the past three years. Although he had never heard of the bait bike police strategy, he said after his second bike was stolen, he thought of installing a similar GPS system into his handlebars.
Karina Lo, a Sargent College of Health and Rehabilitation Sciences senior, said the bait bike initiative makes sense given Boston's recent shift to be more biker-friendly. However, she said the initiative alone will not prevent people from stealing bikes.
Lo said rather than installing bait bikes, university officials should consider selling GPS systems to the actual bikers so they can track the location of their bikes themselves.
"They [the university] should be making the public aware that you need to lock your bikes properly," she said. "You can't be too cautious … People leave their stuff everywhere … BU's population is more on the privileged side, so they think, 'oh my stuff isn't going to get stolen…' People take safety for granted."
Justyn Huang, a School of Management junior and frequent biker around the Charles River Campus, said students' bikes are typically stolen when they are carelessly left on locations such as telephone poles or street signs. He said if students were more wary of where they lock their bikes, fewer thefts would occur around campus.
"I put my bike on a bike rack, and I've never gotten it stolen," Huang said. "BU does have a bubble — even though we're in the middle of the city, people generally feel safe here … which is a good thing, but I think in the real world you can't be that way."