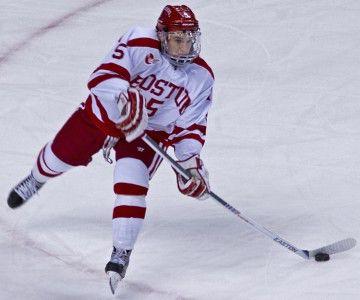 For the first time since a dramatic loss in the Hockey East Championship in March, the No. 19 Boston University men's hockey team will take to the ice against another school Saturday, and the result will not mean anything — at least, not explicitly.
First-year head coach David Quinn and his Terriers will host St. Francis Xavier University at 7 p.m. at Agganis Arena. The X-Men are a Canadian college team, which are generally a tier or two below their NCAA Division I counterparts, and the game is a mere exhibition, and the score itself is meaningless.
What is important is that the coaching staff, led by Quinn and associate head coach Steve Greeley, will get a first look at the 2013-14 Terriers in an environment other than drills or an intrasquad scrimmage.
"I'm interested in where our conditioning is," Quinn said. "To me, there are two things we absolutely want to do — we want to be fast and physical. To me, those are the two things we're looking for. We're not going to have a lot of chances to go over systematic things [before the game].
"This week, we'll at least touch on the things that we're going to have to have systematically in place Saturday night and we can build off it. For me, I'm really just looking for puck skills, how fast we are and how physical we are."
BU is still captain-less — Quinn said he expects to name one by the end of the week — but the coach has been impressed by the seniors' leadership early this semester.
The last three weeks of September, BU got on the ice for two hours per week, generally split into three 40-minute sessions. The team was able to start full practices Tuesday.
Given those circumstances, BU has not had much time to practice. Lines are still very much up in the air. Special teams will likely be rough around the edges, to say the least.
"You may want to close your eyes Saturday night when we get out there and have to kill a penalty," Quinn said.
It will be the first game in scarlet and white for most of BU's nine-member freshman class, but Quinn may not have the entire roster at his disposal. Senior forward Jake Moscatel, for example, has been out sick for about two weeks, and freshman forward Brendan Collier missed some time last month with a minor injury.
Quinn said he expects to dress 13 forwards and seven defensemen, one extra of each.
Opening the season against a Canadian collegiate team is nothing new for BU, which has done so most years since the turn of the century. In October 2012, BU beat the University of Toronto 5-0, and in 2011, StFX downed the Terriers, 6-4.
If the X-Men are sharper than the home team, it could be because it will be their fifth preseason game. They play in New Brunswick, Canada, an eight-hour drive from Boston, Friday night, then at No. 4 Boston College Sunday afternoon.
However the game turns out, one thing is certain: Hockey is back. And with it comes a renewed since of optimism for all involved.
As Quinn, donning a sly smile, put it, "We're still undefeated."