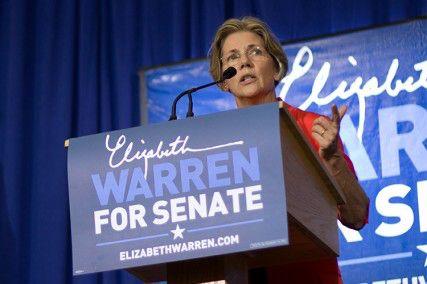 While addressing the consequences of the impending government shutdown on Monday, U.S. Sen. Elizabeth Warren mentioned essential programs that are being jeopardized by sequester budget cuts, such as the Framingham Heart Study, a Boston University-administered program.
As a result of automatic spending cuts by the federal government, FHS — the nation's longest running study of cardiovascular disease — lost 40 percent of its funding late this summer, Warren said.
"Washington has its priorities all wrong," Warren said. "There are people across this country who are alive today, in part because of the work that began with this study [FHS] … The next time you think of someone you love who has heart trouble, think about the sequester cutting one of the world's premier heart research programs."
Warren said FHS has yielded groundbreaking research since its original cohort in 1948. She said the $4 million spending cuts FHS suffered were one of the many poor decisions made by Washington officials regarding sequestration.
Hours away from government officials' inability to settle on a budget on Monday, Warren said Senate Republicans have obstructed the government from finishing the budget, passing a single appropriations bill, and fixing the sequester.
"Scientists and medical researchers in Massachusetts are also getting pounded by the sequester," Warren said on the U.S. Senate floor. "…They are working on discoveries that will help us in ways we can't even imagine. Yet, here we are, bluntly hacking away at their funding, delaying their research and cutting off promising new work before it even starts."
More than 15,000 people from three different generations of Framingham  residents have participated in FHS since 1948, according to a statement released by FHS officials after the $4 million budget cuts went into effect. FHS conducts research to identify risk factors and genetic markers for major public health problems such as heart disease, dementia and diabetes.
"[FHS is] identified as number four on a list of the top 10 medical advances of the 20th century by The Washington Post," according to the statement. "FHS comprises a scientific community of committed study volunteers and physician, Ph.D. and biostatistician investigators from academic institutions worldwide."
Due to the significant loss of funding from the federal government, 19 staff members were cut from several clinical and administrative areas, according the statement. Additionally, various clinic exams and lab operations were reduced.
Prior to the sequester, FHS received its funding from the National Heart, Lung and Blood Institute and a division of the National Institutes of Health.
"We are working with the NHLBI leadership and with other potential funding sources to help sponsor the research, fill the funding gap and thus save these jobs and cover the costs of the previously planned clinical examinations and laboratory studies," the statement read.
Despite planned eliminations of examinations that are also used in ancillary studies, FHS has continued its research and has contacted its participants for future exam cycles, according to the statement.
"While this news is disturbing, it is important that we move forward with our research activities, managing grants within the 90 percent of funding provided by NIH," said Boston University Medical Campus Dean Karen Antman in the statement. "Representatives of the University are in regular communication with federal agencies and legislators, and we will provide updates as they become available."