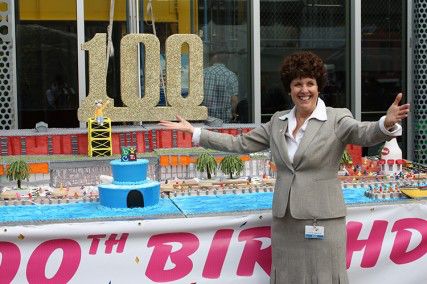 Celebrating its 100-year anniversary, the Boston Children's Museum baked a 1,200-pound cake shaped like the museum for the public Friday to kick off its weekend of festivities celebrating the centennial.
"The weekend caps off a spring and summer of joyful programs and events that touched thousands of families and children," said Jo-Anne Baxter, spokeswoman for the museum. "It is a culmination of a series of events and public programs designed to promote early childhood education and support the role of play in the lives of children and families."
The half-vanilla and half-chocolate cake did not break any world records, but it measured 16 feet long and seven feet wide, consisted of 100 sheet cakes and weighed more than half of a ton, said George Montilio, owner of Brockton-based Montilio's Baking Company. Montilo's company made the cake free of charge to feed 3,000 people.
"We had five bakers and six decorators working on the cake," he said. "We started on Sunday, so it took about five days to finish, working about 12 hours a day. … I had friends at the museum who called up and asked [to make the cake], and I was happy to help."
In order to get the cake to downtown Boston from Brockton, three sections were individually carried in a refrigerated truck and the extra pieces were transported in a van, Montilio said.
The centennial birthday celebration officially began with the cake-cutting ceremony at 5 p.m., which was then followed by dancing and music and a dance party for children with a birthday parade.
Finishing the night was a performance by the Boston Children's Chorus singing "I Am a River of Hope," a song written and composed specifically for the museum by Jim Papoulis, a New York City-based composer and conductor.
People came from many of Boston's neighborhoods to celebrate the museum's centennial.
Angela Eastman, 40, a resident of South Boston who was accompanied by her three kids, said the museum is an important part of her family life.
"We come in and play very often," she said. "We have a pass, so we can come in just for an hour or two, which is especially nice during the winter when outdoor activities are scarce."
Lillian Garvey and her granddaughter Emma, residents of Charlestown, said she came out to the museum to celebrate its birthday together.
"I have been coming to the Children's Museum since I was a little girl," she said. "I brought Emma here for the first time about a year ago, and now she is here celebrating its birthday by singing with the Boston Children's Chorus. We both love the museum."
Motoko Melito, 37, and her daughter Leah, 12, residents of Chelsea, said they came to the festivities because Leah was singing in the chorus.
"I love singing, and I have done a few concerts before this (I've been with the Chorus for 2 years), but I'm especially looking forward to this because it's really fun," Leah said. "I used to come to the museum a lot as a little girl. My favorite exhibit was the bubble room where I got wrapped up in a bubble … I'll never forget it!"
Baxter said the festivities continue throughout Saturday and Sunday, including both indoor and outdoor music, a variety of performing arts, science presentations and live animals, in addition to several other exhibits.