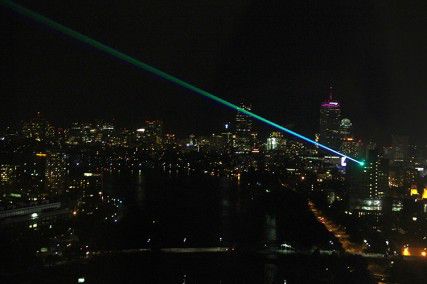 In honor of the first TransCultural Exchange 2013 Conference on International Opportunities in the Arts to be held at Boston University, a laser was displayed between Student Village Two and BU School of Law from Oct. 10 to Oct. 13.
The TransCultural Exchange 2013 Conference invited artists from different countries and disciplines to interact and share ideas with each other, said Mary Sherman, organizer of the conference. She said the laser, known as the Talking Towers Laser Project, was designed and executed by German artist and geophysicist Florian Dombois.
"What the artist has done, which is shooting a laser between two buildings, makes them echo one another," Sherman said. "He's uniting them with the laser. It's a line in the sky … It looks to me like a heartbeat between the two buildings."
Sherman said the laser served as a centerpiece to the TransCultural Exchange Conference. She said the laser was placed between StuVi 2 and LAW because it is the only junction in the U.S. where all modes of transportation converge.
"It's kind of a famous spot, you could say," Sherman said. "You have cars, interstate highway, train, metro, boat, airport — so, almost every mode of transportation is going between the two [Stuvi2 and BU School of Law]. And, by marking it, it becomes obvious, and it's related to the conference where people all around the world come together, so it is kind of connecting people."
Sherman said the location of the laser was an ideal metaphor for the conference, as people came from around the world to be united by the power of art. Typically, there is some form of an art installation displayed at the same time as the TransCultural conference. This year, Sherman said she commissioned Dombois to do the laser piece because Dombois is both an artist and geophysicist.
"We [TransCultural Conference] want to get artists thinking about working in different fields of discipline to show that you can do other things with art," Sherman said. "We have panels to expand one's mind about what art can be. We have a panel on art food, fashion and art, how smells and incense have been used in art over history, a lot of artist and scientist programs."
Aside from the Talking Towers Laser Project, the TransCultural Exchange Conference provides international artists with opportunities to expand their knowledge of their fields through seminars and artistic connections, Sherman said. This is the first year the conference was held at Boston University.
"This is the only conference of its kind in the world, which is nice for BU. And the thing about it being at a university this time, is that it's a good transition for art students and young artists," Sherman said. "So when you graduate, this is a nice segue between that and a professional career, if you want to go overseas, do a residency, [or] make connections."
BU spokesman Colin Riley said this exhibition is organized through BU's College of Fine Arts, and it is part of the conference on international opportunities in the arts.
"It's equipment that is beamed from building to building, with the night sky serving as a canvas so that it can be seen, so the art that it is producing will be visible," Riley said.
Although the laser commemorates the conference, the line itself does not represent anything, Dombois said.
"Art isn't about representation," Dombois said. "The laser is a way of trying to connect two buildings … by the simple gesture of a line. They talk to each other. Then you realize it [Stuvi2] is kind of quoting the School of the Law. The architectural structure is very similar. So you could say it's a kind of son-and-father piece, or father-daughter piece."
Despite conference officials' primary goal to service the future careers of international artists, Dombois hopes that the Talking Towers Laser Project will remind people of the importance of artistic thinking.
"The first duty of art is to make you think, and artistic thinking is a way of thinking that is not very common in today's economic, functionalistic, goal-driven attitude," Dombois said. "So, it's a moment of rest, of meditation, of getting awake."