Smokers on campus engage in the debate on e-cigarette use.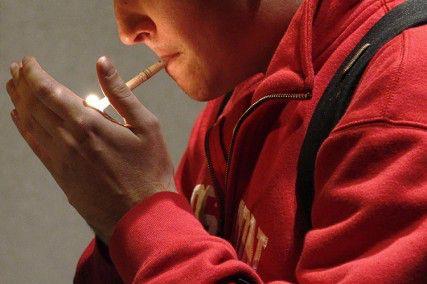 Lauren Howard, a College of Arts and Sciences freshman, makes her way down the three flights of escalators in Warren Towers, reaching for a cigarette in her purse. Instead of pulling out a pack of Marlboro Lights and a lighter bought at a City Convenience store, however, Howard grabs an e-cigarette. It has the same size and shape of a traditional cigarette, but with a different method of releasing nicotine.
"Every time I feel the need to smoke, I just take out my e-cig," Howard said. "It's much more convenient."
The concept of e-cigarettes, or "e-cigs," has come onto the market as a potentially healthier alternative to traditional tobacco cigarettes.
Using a rechargeable lithium battery, e-cigarettes provide users with nicotine through 'vaping,' which is the vaporization of a liquid solution. An LED light on the end of the e-cig even provides the user with the illusion of burning embers for those who enjoy traditional smoking. However, this may not be reason enough to switch.
Standing outside of Rich Hall, her West Campus dormitory, for a midday break, Bonnie Leta, a College of General Studies freshman, takes the last puff from her almost extinguished cigarette. Flicking the butt into the ashtray, she stomps out the last of its embers.
"There's something more satisfying about smoking an actual cigarette and watching it burn and ash," Leta said comparing her tobacco cigarette to an e-cigarette.
After starting a smoking habit in high school, Leta said she has never wanted to try an e-cig. Though she said she might not like it because of the routine change, she is more concerned that using e-cigs would make her habit persist.
"I think if I had an e-cig, I'd end up smoking more because I wouldn't be limiting myself to a certain number of cigarettes a day," she said.
What's the deal with e-cigs?
Despite personal preferences, controversy over the e-cigarette is ongoing and nationwide. Some consider it to be a healthier alternative to smoking traditional cigarettes. Some say it is a way to wean themselves off of smoking altogether, while others say it is a gateway to addiction, since it is marketed as a safer alternative and not branded enough as a product that supports eliminating nicotine from consumers' lifestyles.
E-cigs are an alternative method for a nicotine fix, sometimes used for a smoker in the process of quitting. A Food and Drug Administration report revealed that there are only nine found contaminants in an e-cigarette versus the 11,000 contained in a tobacco cigarette, making the former a healthier choice.
Approximately 1.8 million young people have tried e-cigarettes, according to a 2012 study by the Centers for Disease Control and Prevention, and the Tobacco Vapor Electronic Cigarette Association found that 4 million Americans use battery powered cigarettes on a regular basis in the same year.
There are already more than 250 brands of e-cigarettes to choose from. Among those brands, there are hundreds of flavors. The estimated yearly cost of replacement cartridges for the e-cig is about $600, compared to the $1,000 a year it costs to feed a pack-a-day tobacco cigarette habit, as detailed on the Tobacco Vapor Electronic Cigarette Association website.
According to a 2011 study by University of Missouri researchers, partying, drinking and work encouraged college students to smoke. Those who did smoke were prone to doing so during the start of the semester and on weekends.
The American Cancer Society blames smoking in young people on the billions of dollars that the tobacco industry spends each year on advertisements to show that smoking is exciting, glamorous and safe.
While smoking is not permitted inside of residences or buildings at BU's Charles River Campus, it is permitted at outdoor locations throughout campus. On BU's Medical Campus, which includes Boston Medical Center, smoking is not permitted inside buildings or anywhere outside on campus.
The non-smokers' take
While the FDA is still researching the potential health risks of e-cigarettes, students who do not smoke said e-cigarettes help smokers and non-smokers coexist in social situations.
"I think when people use e-cigs, it helps me stay away from secondhand smoke," said Emily Goldman, a CGS sophomore who does not smoke. "With e-cigs, it's easier to be around my friends who smoke. I think it's a healthier alternative to tobacco smoking."
Keilani Sakumoto, a School of Management freshman, said she chose years ago to never pick up a cigarette, and hopes e-cigs could be a step toward more people quitting.
"While e-cigs are a step in the right direction, smokers need to go further than that and quit completely," Sakumoto said. "I think all smoking is detrimental not only to the smoker, but also to those around."
Drew Dunham, a College of Communication freshman, also said he thinks the adoption of e-cigs will benefit non-smokers.
"I think people should use e-cigs not only for the smoker's health, but also for the health of others," he said. "If there's a healthier way to smoke, I don't see why everyone doesn't make the switch."
The question of quitting
Emily Austin, a CAS sophomore, said she switched from smoking traditional cigarettes to e-cigarettes primarily because she felt judged by others for smoking regular cigarettes.
Since switching, she said she has found several health benefits.
"It's really nice to still get that nicotine fix when I need it, but not to have all of the horrible chemicals that go along with cigarettes," Austin said. "I also run a lot more than I did when I was smoking."
Unlike Austin, other smokers said they were not concerned with any perceived judgments.
"I don't feel judged by others when I smoke because I don't pay attention to what other people think of me," said John Blackler, a CAS senior. "Their opinions about me aren't relevant."
Leta acknowledged that smoking is unhealthy and often stigmatized, but said it is only a short-term habit for her.
"I wouldn't blame people for judging me for smoking because I know it's unhealthy," she said. "Smoking is definitely a social thing, and after college I don't plan on doing it anymore."
According to a fact sheet from the Centers for Disease Control and Prevention, 70 percent of adolescents said they wanted to quit smoking, but are not able to do so.
"I have wanted to quit," said Je Ung Yun, a CAS freshman. "It's harder in college to stop smoking. I use it to deal with stress, and I just like the nicotine rush too much."
Other students, such as Blacker, wait to quit until they have a specific reason.
"I have a cycling race I want to prepare for, so maybe I'll quit for that," Blackler said. "It's hard because of the crowd you surround yourself with. If someone else is smoking, I want one too."