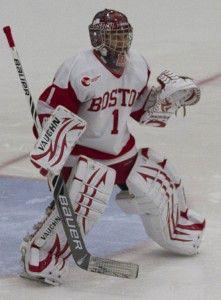 The No. 7 Boston University women's hockey team will wrap up its season-opening four-game road trip this weekend when the Terriers face Robert Morris University both Friday and Saturday in Moon Township, Pa.
The weekend tilts will be the seventh and eighth meetings between the Terriers (1-0-1) and the Colonials (3-1). BU has dominated the series with an overall record of 6-0-0 against Robert Morris.
In the last contest between the two teams on Oct. 27, 2012, the Terriers blanked the Colonials by a score of 3-0 with two goals from then-freshman forward Sarah Lefort and a 24-save shutout from then-junior goaltender Kerrin Sperry.
The Terriers have had a solid start to the 2013-14 season, tying Rensselaer Polytechnic Institute 2-2 last Friday before defeating Union College 3-2 in a thrilling overtime victory Saturday.
The Terriers have averaged 2.5 goals per game so far in the 2013-14 season, a much lower total than the 3.8 goals per game that BU averaged last season. The main cause for the Terriers' weaker offensive numbers this season lies in the team losing their top three scorers from last season, as senior forwards Jenelle Kohanchuk and Isabel Menard both graduated, while junior forward Marie-Philip Poulin is playing with the Canadian Olympic Team this winter.
Thankfully for the Terriers and BU coach Brian Durocher, the team's sophomore class has stepped up so far, as forwards Rebecca Russo and Jordan Juron have combined for eight of the team's 13 points on the season.
Russo in particular has been excellent, as the Westport, Conn. native has scored three goals and recorded one assist in the first two games of the year. Russo has already almost eclipsed her point total from her freshman year, as she recorded five points in 30 games last season.
For her efforts during the start of the season, Russo was named Hockey East Co-Player of the Week. Durocher said that he has been pleased with the performances from the sophomores, noting that the team needs them to continue to make their presence felt if BU wants to compete this season.
"They knew that this was going to be their opportunity this year," Durocher said. "They didn't play on the power play, they didn't kill penalties last year, and right from the get go, they've been in our plans on those special teams, as well as being one of our three go-to lines.
"The great thing is that they've answered the bell right from the first practice. They've been good every game, in practice they've been playing with confidence, and there's nothing like having things happen in the games that helps. It certainly bodes well for the immediate future and hopefully long-term as the year goes on."
The 2013-14 season has seen Sperry continue to post dominant numbers in net with a 1.88 goals-against average and a .938 save percentage.
The Colonials are currently riding a three-game winning streak after victories over Rensselaer (1-2-1) and Bemidji State University.
The Robert Morris defense has been solid to start the season, as they have only allowed 1.5 goals per game through four games.
"The thing that sticks out in my mind is that this is a team that's built themselves on being really hard to score against," Durocher said. "They used to have one of the Olympic goalies, Brianne McLaughlin, when their program really started, but the last few years … they've still been tough to score against.
"This year, I think they've already in four games only given up, I believe, six goals, so that's a pretty nice number to work with. They're tough in their own end of the ice, they do have some opportunistic scoring players. … Without a doubt, their trademark is that they're not going to give up a lot of goals, and we're going to have to work to screen the goalie, get hits, get deflections, and score the tough goals."
The Colonials have received a big boost in net from goalie Jessica Dodds. The London, Ontario, native has been excellent this season, as she is first in the College Hockey America Conference in goals-against average (0.96) and save percentage (.956).
For Durocher, the biggest key to two Terrier victories over the weekend lies in the team putting together a great defensive performance against the Colonials.
"I think we've got to match their defensive intensity," Durocher said. "Last year, we had the luxury of knowing that we can get four or five goals on a lot of nights, but this year, if that happens, it's going to be great, but I don't think we can go in there and say that's going to be our M.O.
"Our M.O. has got to be to play tough at the net, defend well and make sure we're able to win 2-1, 3-2 games. You know, if good fortune shines at us, and we're scoring more goals with that, well, great. But let's make sure we're not trying to climb up the slippery slope or think ahead of ourselves offensively.  … You had better make sure that you take care of business. I think that's our number one thing now, and probably as the year goes along."