BU senior shares her first-hand  experiences with Boston's mayoral campaign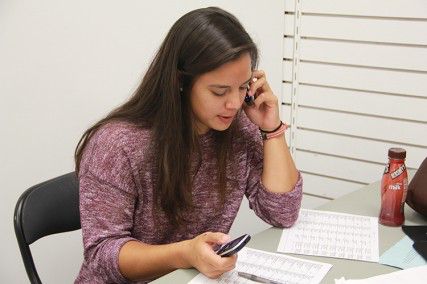 Voices bounced off the white walls of John Connolly's small campaign headquarters on Oct. 14 as volunteers made last minute phone calls informing eligible voters about the mayoral debate happening that night between City Councilor John Connolly and Mass. Rep. Martin Walsh.
A volunteer in her early 20s set up speakers and used her laptop, covered in "Connolly" stickers, to project the Boston Globe's live streaming of the debate on a nearby wall. Another volunteer entered the room on 10 Milk St. with boxes of pizza for those huddled around the speaker as Jon Keller, the moderator, opened up the debate at 7 p.m.
Every now and then the volunteers let out a cheer as they listened to Connolly share his plans for a better education system in Boston — a policy area that many of the college-aged volunteers are passionate about.
Boston University senior Beata Coloyan is one of those young volunteers sitting in the office decorated with blue and white "John Connolly" posters, listening to the first of the mayoral debates. As a political science major, Coloyan said she was eager to get experience in the world of politics and spend time with other "young political junkies."
"I love that everybody is about my age," Coloyan said. "The cool thing about campaigns is that everyone is in their 20s … it's a young person's race. There's no sleep — it's one of those types of things. But it's a great environment to be involved in."
On a typical day, Coloyan wakes up at 5:30 a.m. for a three-hour rowing practice, attends classes, and then works out for another hour or two. But three days a week, after her usual routine at school, she hops on the MBTA Green Line inbound to Connolly's campaign office and serves as one of the five — and one of the youngest — co-chairs of Connolly's campaign. Even after an exhausting day, Coloyan said she tries to project a positive energy to the others in the office.
"When you're enthusiastic about breaking into [a campaign], you want to see a politician work — you don't have credibility to you," she said. "You learn from living in the life of a politician."
Coloyan, who grew up in Boston, said she supported Connolly even before he decided to run for mayor. Beginning her search for internships in 2012, Coloyan was interested in working with city councilors. At the same time, she was teaching at a Sunday school where one student's mother happened to be Connolly's chief of staff.
After researching more about Connolly, she found he worked as a public school teacher and was drawn to his work with Boston schools and discovered he was a "family- and community-oriented" person. Ultimately, it was Connolly's persistence in implementing a better education system for Boston students of all ages that gave Coloyan the motivation to apply for an internship at his office, she said.
"Even though I'm graduating, I have a younger brother and sister who will go off to college," Coloyan said.
For this reason, and for smaller reasons such as Connolly's bike plan, which would benefit graduating students such as her who will likely not have enough money to buy a car, Coloyan said she supports Connolly's plans to improve the city.
"He wants to make rent cheaper, he wants to make the MBTA run later…and that's what I always tell people our age," she said.
Coloyan began her internship at his office in the summer of 2012, getting her first glimpse into the daily life of a politician. She spent the following fall in London on BU's Study Abroad Program, interning for the British Parliament. There, she had the opportunity to participate in a campaign, and realized she enjoyed campaigning more than working on policies in Connolly's office. Returning to Boston, she was torn between staying with Connolly and leaving to work on a campaign instead.
Reluctantly making a decision, Coloyan called Connolly's office.
"Just want to let you know I want to work on a campaign this summer," she remembered saying. "Sorry, but I don't think I can work for you."
The person on the telephone laughed and answered, "Funny thing, we are actually going to run a campaign this year."
Now, Coloyan sits at a table and patiently calls people listed on a white sheet of paper in front of her, asking for their votes and support. Other volunteers, mostly college students or recent graduates, complete similar tasks at either their own, personal desks or share ones.
"It's cool with the high energy — I'm really liking this field of work, it makes it easy to want to show up," Coloyan said. "There are people who have no idea what they want to do, but they love this, and there are people who know exactly what they want to do. So it's cool to see both groups and bounce off ideas between each group."
Between making calls and working, Coloyan jokes with her former high school classmate and current close friend, Caitlin Walsh, about becoming "rejection proof" after another person hung up on her.
Walsh, a Northeastern University junior, also started working on the campaign with Coloyan this summer. She attended private school from kindergarten until sixth grade, but stressed it wasn't something her family could afford. Since public schools lacked adequate facilities and faculty members, her family had no choice but to go for the better — yet costlier — option. This experience drove her to support Connolly in the mayoral race.
"I know a lot of people who didn't get the opportunity that I did, and I firmly believe that education should be the first step," Walsh said. "[Connolly] is giving off the impression that he's listening and he wants to work with Boston instead of working for Boston."
The volunteers had something else in common. Many of them are athletes, which may contribute to their ability to work as a team. As some people make the calls, someone else will be responsible for inputting the information into the computer, and someone else is welcoming and talking with a reporter from the Boston Globe.
"The best part is the feeling you're a part of something and the community involvement," Walsh said. "Everyone is so much a team and a player. A lot of us come from athletic-competitive sort of backgrounds, but we know that team aspect."
Spencer Baldacci, a BU junior majoring in political science, also volunteers for Connolly and wants to see change in the education system. Even though she does not think she will work in the political field in the future, she said she wants to directly improve people's lives through "hands-on projects and interaction."
"We are at an age where changing the world and bettering the lives of those around us is a priority," Baldacci said. "So many of the decisions being made in politics today are defining our future, and that is definitely something that everyone in their twenties is invested in."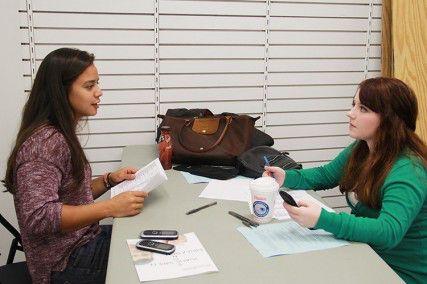 As the youngest co-chair, Coloyan has the responsibility of reaching out to young eligible voters in Boston. During the summer, she returned to her high school, the Boston Latin School, which is a big voter base for Connolly. Arranging an event for him there, she was able to gather more than 100 people to come and hear what he had to say.
This summer, she was also an orientation leader at BU for students majoring in political science, and seized that opportunity to encourage as many incoming freshmen to become active in the political sphere. Now, several of the people she recruited are also working in the same office as her, including Hillary Auker and Rachel Long, creating a close community among students who want to continue their journeys into the political realm.
Growing up in a political household, Coloyan said she spent her teenage years watching "The West Wing." Her father also attended BU and studied political science, and her great grandfather was the mayor of Manila, Philippines. Like many of the young adults working on the campaign, she knows she is interested in politics, but has no idea where that passion will take her.
"A couple of people suggested that I run in Boston for something that I have no idea yet," she said laughing. "I'm just going to see how it goes."
CORRECTION: The initial article stated that Coloyan's grandfather was formerly the mayor of Manila, Philippines when in fact it was her great grandfather.