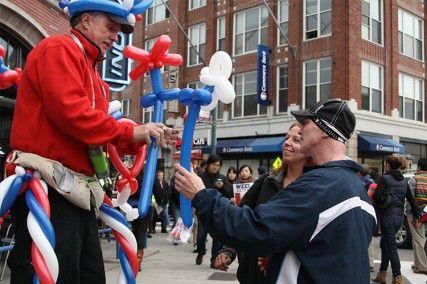 Although not all Boston University students are from Massachusetts, many begin to follow the Boston Red Sox baseball team when they arrive in Boston, and this has only increased as the team plays in the 2013 World Series.
On the evening of the first game of the World Series, many BU students said they would be cheering on the Red Sox when they in Wednesday's match-up against the St. Louis Cardinals.
Sargent College of Health and Rehabilitation Sciences junior Danielle Eble said she became a Sox fan after moving to Boston for school from upstate New York.
"I never really got into baseball until I came to Boston," she said. "Then I adopted all of Boston sports."
Eble, who works at a sports bar near Fenway Park, said being a Red Sox fan is essential for Boston residents.
"It's such a big part of the Boston culture," she said. "People will come here and they won't even be hockey fans, but they're BU hockey fans — same things with the [Boston] Bruins. Boston is also just a huge sports town. We have good sports teams, so it's hard not to get on the bandwagon and fall in love with it once you get here."
College of Communication sophomore Kerriann Kelleher said adopting the sports culture is part of moving to Boston.
"That's the beauty of BU," she said. "Everyone comes and adopts the culture in New England."
Kelleher said she is excited to be living on a campus that is in such close proximity to a historic game. Bostonians would be extremely excited to win the World Series, she said.
"Boston needs a win so badly after the whole thing that went on in the spring with the Boston bombings," Kelleher said. "It would mean so much to the city."
The Boston Red Sox are entering the World Series first in American League East after an amazing 2013 season with 97 wins and 65 losses. This season's success contrasts with their 2012 performance, when they faced their toughest season since 1965 with 69 wins and 93 losses.
The Sox also beat the Cardinals in the 2004 World Series, winning four games in a dramatic sweep after not having won the World Series since 1918.
Kelleher, a Massachusetts native, said she was raised by Red Sox fans and thus her status as a fan was inevitable.
"You can't live in Massachusetts without being a Red Sox fan," she said. "You have no choice."
School of Management junior Kandyce Graber, a Wisconsin native, said she enjoys following the Red Sox more than any sports teams in her home state.
"In Wisconsin, we have the [Milwaulkee] Brewers," she said. "Some people are Brewers fans, but they're not any good, so it's not very fun to cheer for them. Here, it's a tradition. Everyone likes them [the Red Sox]. There's a huge fan base."
College of General Studies freshman Brianna Hanson, who grew up in Rhode Island, said many students become Red Sox fans during their time at BU.
"It's surreal," she said. "It's amazing — the fact that I'm here and it's [Fenway Park] right down the street."
Hansen also said other students support rival teams, which adds to the overall intensity of the sports scene in Boston.
"Even though there are Red Sox fans, you see [New York] Yankees fans as well," she said. "… The fact that it's so diverse here really reflects baseball culture. You really feel the passion among the Red Sox fans here…. You find the people that are Red Sox fans, and you bond with them. The culture is here."
SAR junior Rachel Lustbader also said she began following the Red Sox when she moved to Boston.
"It's very exciting," she said. "I wish I could go to the game, but I can't afford it."
COM junior Sarah Ryan said she has always been a Red Sox fan.
"I'm from Massachusetts, so I've grown up and watching the red sox and going to Fenway," she said.
Ryan said she believes the Red Sox will eventually be victorious in the series.
"The Red Sox always make you hold out until they very end," she said. "Then they pull through."