Walking into the House of Blues on Oct. 18, I was not prepared for the environment I was about to experience. Since their third studio album Mine Is Yours, my Cold War Kids fandom has been declining, and I assumed my feelings were shared with the general public. But I was wrong — stepping into one of the fullest crowds I've seen at the House of Blues, one could feel the energy as anticipation for the concert grew. 15 minutes into the show, my fandom did a 180 as it became clear that these guys have still 'got it.'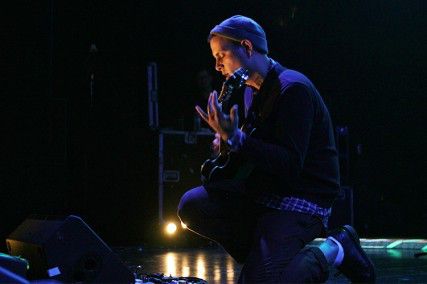 While many rock bands notoriously flounder on the big stage for various reasons, Cold War Kids thrived. They did not fall into the classic trap of trying to do too much with the set design and lights. They kept it simple, with a backsplash depicting a skeleton sitting in a car next to a young child under relatively tame lights. They allowed their music to do the talking, and it made some fantastic points for the band. The voice of lead singer, Nathan Willet, which I have previously described as a whining croon, sounded immaculate and clear over the music. While Willet killed the vocals, he was not the only member shining. Bassist Matt Maust was definitely a show stealer. I have a soft spot in my heart for bassists in general, and nothing fits the Cold War Kid's soul/punk sounds better than a good bass line. Maust also contributed to the life of the band, interacting with the crowd and other band members throughout the set. The band had a peculiar habit of making physical contact, whether it was a tap, a kick or a bump, with each other in the middle of songs. This was interesting to watch and it allowed for some of the group's personality and love for performing to come through.
All of that aside, the set itself was well crafted and didn't come off as too formulaic. The band put special emphasis on their earlier hits, including "Hang Me Up to Dry" and "Something is Not Right With Me," and interspersed them throughout the night to pump up the high-octane crowd. Even after the foursome put their instruments down, said goodnight and exited the stage, the crowd never stopped cheering. As expected, Nathan returned a few moments later to perform a solo song using the piano on-stage. As that song came to a close, the other band members returned to the stage and seamlessly flowed into their final song of the night, rocking the concert hall. And although I showed up to the concert with a diminishing fandom, I left with renewed faith in Cold War Kids.