BU seniors discuss personal experiences with startups during their early college years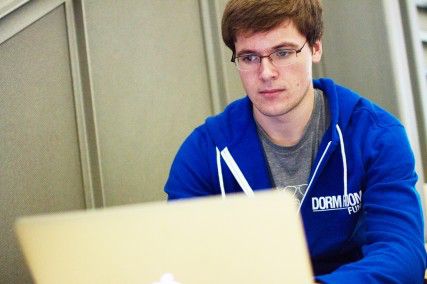 Like many Boston University seniors, Connor McEwen spends much of his time involved in activities he cares about, such as playing intramural sports, eating, going to class and participating in Greek life and other clubs and activities on campus.
And, like many other BU seniors, he also gets a little uncomfortable with the question of what he is doing after college.
"Yeah, that's the thing everyone is talking about right now because we're seniors," said McEwen, who is in the College of Engineering. "To be honest, I don't know."
Despite the typical uncertainty about the future, McEwen at least knows what he is interested in: entrepreneurship. At 21 years old, he was chosen to be on the Boston Investment Team of the Dorm Room Fund, a student-run venture that invests in student startups. With the help of 10 other students from colleges in the Boston area, McEwen looks for interesting companies starting up on campuses for the Dorm Room Fund to support.
According to a Sept. 26 Forbes article, 29 percent of entrepreneurs are between the ages of 20 and 34. Tech-savvy 'Millennials' — a term given to the generation currently moving out of college and into the workforce — are creating startups to meet niche needs that are being overlooked by larger corporations. With fresh ideas and more technical knowledge than older generations, young people have the opportunity to bring their ideas to life sooner rather than later, even if that means pursuing a venture before graduation.
Unlike many seniors, McEwen has had some real world experience. Breaking into the startup world, McEwen and his roommate, Nam Chu Hoai, spent their junior year making their own solution to a problem they saw in the online marketplace — a startup named Credport.
The build up
McEwen and Chu Hoai met their freshmen year as randomly assigned roommates in a brownstone on Bay State Road. McEwen, originally from Ohio, and Chu Hoai, an international student from Berlin, began to recognize that they shared common interests. Spending a lot of their time finding "cool things online" and researching what different companies were doing, the pair gradually honed their interests in technology and entrepreneurship.
"It's always fascinated me how people do such great things," said Chu Hoai, a College of Arts and Sciences computer science major. "And we wanted to do these great things we read about."
For example, McEwen said, every company that now employs thousands and thousands of people was started by a single entrepreneur.
"It's about bringing new things into the world like new technologies such as iPhones," he said. "All these cool things exist just because some guy was like, 'Hey, we should make this.'"
After Chu Hoai's internship at a startup and his experience with applying for the Thiel Fellowship, a program where an investor gives money to 20 people under the age of 20 in order to pursue their innovative ideas, the two began understanding how startups work.
As sophomores, they began recognizing a common problem in the newly created businesses where people could use the Internet to find everything from babysitters to televisions to rooms for rent.
"We thought these people had a big problem," McEwen said. "You don't trust strangers."
During winter break of their sophomore year, the idea of Credport was born. Credport was created to address the problem of trusting strangers in an online marketplace. It allowed users to know exactly who they would meet and to view the person's ratings from previous transactions, McEwen said.
Getting started
Chu Hoai started the project during the 2012 spring semester as a directed study. By the summer, they received $18,000 and office space from the [email protected] program to support their project.
"But at the end of the summer, we just decided that we didn't want to quit and go back to college, so we decided to take a year off and go to Germany," Chu Hoai, who was raised in Berlin, said.
Excited by the freedom of the project, Chu Hoai and McEwen said they saw this as an initiative worth the investment of their time.
"At least for me, the reason I love entrepreneurship is mostly because you get to choose what you're working on, who is working on it, and which way you're working on it," Chu Hoai said. "You choose to do it the way you want to do it, and that's a great feeling."
Starting a company requires both time and motivation, McEwen said.
"When you're starting a company, you're thinking about what needs to get done in such a limited time," he said. "And then you have to go to class and learn things that are completely unrelated to anything that you need, which makes it harder to be as motivated because all you're thinking about is your company, your company and your company."
Chu Hoai echoed McEwen's feelings of being consumed by the project, which left little time for school in his schedule.
"It's like a sports club, except it's your baby so you really want to do it perfectly," Chu Hoai said. "When you're really into a project, everything else just doesn't matter."
By March, McEwen and Chu Hoai decided that Credport was not working out, so they returned to Boston to finish their degrees.
"I think the experience was so valuable, much more so than anything else I could have been doing during that year," McEwen said.
While they decided to take a year off to pursue this, they said they didn't choose that path lightly.
"A lot of people want to drop out because it's a cool and hip thing to do, and for those people I don't think it's a smart thing," McEwen said. "The reason we left was because we were thinking 'someone needs to do this. The world needs to have this thing, and we have the capability to do it.'"
They knew if they waited a year, the marketplace would be different. Taking time off was more of an afterthought than the initial goal, Chu Hoai said.
"We thought, 'We want to work on this, how do we do it?' instead of 'What are we doing after we drop out?'" he said.
An eye to the future
Though they returned to school for the year, they know they want to get involved in something similar in the future.
"We know we want to do something like this again," Chu Hoai said. "But we don't want to push ourselves to get into a project because for us to work as entrepreneurs, we have to be completely committed, and if we do it, we'd better do it for real."
Now roommates of four years, they plan to work together on something in the future since they have been able to work so well as a team.
Despite the technical knowledge they have gained, the team said some of the most important things they learned over the past couple years was to have the motivation to take some risks and try something new.
"Everyone assumes, 'Oh, I don't know things, I should probably go to class and learn it,' but probably the best thing is to just do it, and if you really don't know something then just ask people," Chu Hoai said.
If people are interested in entrepreneurship, they should make something themselves, instead of doing it for classes, even if its just a one page website, McEwen said.
"Boston is an awesome place to become an entrepreneur," he said. "There are so many people who are helpful and willing to reach out and give you advice. But the most important thing is having the willpower to just start working on something."
Steve Jobs was just an 18-year-old kid going to college at one point in his life, McEwen pointed out.
"Everything in the world was made and designed by someone not that much smarter than you, so it's cool to have this opportunity to make an impact," he said.
Senior year
Back at BU, McEwen and Chu Hoai are still interested in entrepreneurship and meeting with people involved in startups.
"It's very much a space that I love and want to be in all of the time," McEwen said.
Both are involved in the BU E-Club, or Entrepreneurship Club, and McEwen writes a weekly newsletter called BU Startups with entrepreneurial events and news about cool ideas around campus.
"We're pretty much average college students, just much of our time is consumed by start-ups," Chu Hoai said. "But you'll find us on a Friday night exactly where you'd find any other senior."