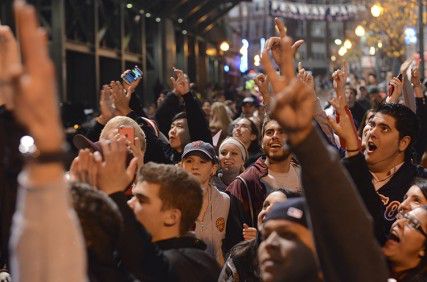 Thousands of people took to the streets Wednesday night to celebrate as the Boston Red Sox clinched the 2013 World Series.
The Red Sox won Game 6 against the St. Louis Cardinals by a score of 6-1. It is the first time the Sox have won the final game of a World Series in front of the home fans at Fenway Park since 1918.
Throngs of people gathered in Kenmore Square as early as 10:30 p.m. while the game was still being played. Boston Police Department officers swept crowds off the streets at various occasions as the groups became rowdy.
When the final out was recorded, thousands gathered in Kenmore Square in view of the Prudential Building, which had lights on its face that were arranged to display "Go Sox" in traditional fashion.
The air roared with shouts, cheers and songs as fans — some of them native Bostonians, some converted Boston University students — celebrated the eighth World Series title for the Red Sox.
Chants of "Boston Strong," "Go Papi" and "Let's go Red Sox" burst out every few minutes in the tightly packed post-game mob as dozens of BPD officers attempted to keep the celebrations controlled.
In Kenmore, police corralled residents onto the Commonwealth Avenue Mall. The crowd was pushy, but no serious violence or rioting broke out.
BPD officers arrested eight people during the celebrations, said BPD Executive Secretary Angelene Richardson.
After about 20 minutes, much of the crowd saw celebratory fireworks go off in Fenway, and chants swelled in volume immediately afterward.
"This is awesome," said Viren Patel, 21, Brighton. "This is the Red Sox. We haven't won [at home] since 1918, and it's been way too long. We didn't just win the World Series. We just won at home because the Red Sox are Boston. We are Boston. Boston is strong, and it feels like we're on top of the world."
Nick Constantilos, 18, drove into Boston from Northampton to watch the game.
"This feels absolutely amazing," he said. "It's absolute pandemonium … I drove two hours to get here, and it was just life-changing. It was absolutely worth every minute. I've been a Red Sox fan through thick and thin. After three horrible seasons, now we're back at it. We're back on the map."
Several people climbed trees to take picture of the crowd. One man ran to Sugar Daddy to buy cigars and resell them in the crowd.
"My heart is still racing," said Justine Miller, 26. "The fans were unbelievable. No one was fighting. Everyone was in good spirits."
Megan Dunham, 24, from Chicago came to the game with her father John Dunham, 49, of Connecticut.
"In 2004, we were watching the game in our basement and my mom came down and yelled at us to be quiet, and in 2007, I was watching the game in my college dorm room in Chicago and all my friends hated the Red Sox, so to be here for this whole celebration is fantastic, it's such an adrenaline rush," she said.
The series took on a special note for the city after the April 15 bombings at the finish line of the Boston Marathon.
Runners, victims, first responders, volunteers and others connected to the Marathon were honored at dozens of pre-game ceremonies at Fenway Park over the course of the season.
A giant "B Strong" logo — a reference to the popular phrase "Boston Strong" used after the Marathon — was cut into the grass in center field, and the players wore badges with the same logo on their jerseys.
Dunham said — as many others did — that the victory was particularly meaningful after the Marathon bombings.
"It's always great to win a World Series, but to have it happen in a year that has been so tumultuous for the city is especially great, "she said. "Boston is such a unified city and this just brings them together even more. It's great to see that people are out here and not afraid to celebrate … It was a big victory for the city and showed that something like that [the bombings] is not going to bring us down."
Around midnight, people walked to the yellow Boston Marathon finish line painted on Boylston Street by Copley Square to continue celebrating.
Crowd members swarmed around cars passing through and tapped on them while cheering as they crossed the finish line — some cars even honked back. People passing by joined in the cheers, and a handful stopped to kiss the finish line.
Meghan Haley, 29, of Cambridge came to the finish line to celebrate.
"We didn't intend to walk toward the Boston Marathon finish line, but now we're here and it's definitely a big deal," she said. "This [the win] means that we're stronger."
She recounted with excitement when designated hitter and World Series MVP David Ortiz said "This is our bleep city," in those exact words during a post-game interview. Ortiz received significant media attention in April when he attended a ceremony at the first home game after the Marathon bombing suspects were apprehended, and he said, "This is our [expletive] city."
Sean McElroy, 36, said he was on his way home from the game when he noticed people gathering at the finish line. It was the perfect place for the night to end, he said.
"This was a team that had something to prove," he said. "The whole town had something to prove, and everybody rallied around the Red Sox and everybody rallied around Boston Strong."
The Sox completed a worst-to-first season after losing 93 games in 2012 and topping the American League East with 97 wins in 2013.
They took the lead Wednesday night against Cardinals rookie pitcher Michael Wacha with a bases-clearing double in the bottom of the third by outfielder Shane Victorino. From that point, there was no looking back.
Shortstop Stephen Drew, who was hitting below .100 in the series but playing stellar defense, tacked on a solo home run in the bottom of the fourth. RBI singles by Victorino and first baseman Mike Napoli made the game 6-0.
Red Sox starting pitcher John Lackey gave up only one run in 6.2 innings, and the bullpen saw the win out with closer Koji Uehara recording the final out via the strikeout.
Altogether, McElroy said he would not soon forget the win and celebration.
"You couldn't write a better story than what happened tonight," he said.
UPDATE: This story has been updated to reflect that eight people were arrested and not nine as originally tweeted by BPD.