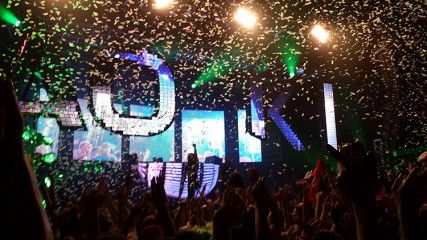 There are certain elements that characterize any rave, regardless of who is playing it —overwhelmingly loud music, gratuitous light displays and a severe lack of clothing are just a few. For a rave to really stand out, the DJ needs to use creativity to make the experience especially memorable. Unfortunately, despite Steve Aoki's best efforts, his Aokify America party was average, and perhaps even disappointing.
Opening for Aoki was heavier DJ Borgore who, for being relatively unknown, put on quite a show. Flanked on either side by professional strippers — well, at least they looked professional — the Israeli DJ played a handful of his own mixes before giving the audience an 'audio tour' of recent EDM. Borgore spent the majority of his set mixing beloved EDM songs like Zedd's "Clarity," Bingo Players' "Rattle" and Empire of the Sun's "Alive." The crowd responded quickly as the shuffling and quiet conversations that plagued the beginning of Borgore's set were replaced by ecstatic screams and the unified bouncing of the crowd. He finished with his biggest hits, "Nympho" and "Decisions," both of which were met with the approving squeals of the audience. As any opening act should do, Borgore made the crowd rowdy and ready for the night's real draw.
Aoki came out to thundering applause as huge letters spelling out A-O-K-I rose up from the bottom of the stage in a spectacle filled with confetti and smoke. Behind Aoki was a large LED screen displaying trippy visuals plastered with the name of Aoki's record label, Dim Mak. But, this rousing beginning of the show was the sole highlight of Aoki's performance. Aoki began by playing music from his newer releases, including his collaboration with Afrojack, "Afroki," and his two alliances with Flux Pavilion and Knife Party, "Get Me Out of Here," and "Piledriver." These lesser-known segments left the crowd strangely lifeless. The once-vigorous crowd began swaying and shuffling sluggishly, and it was not until Aoki played his smash hit "Ladi Dadi" that the crowd became reinvigorated. The show stayed like this for the remainder of Aoki's set. Each time Aoki played a hit the crowd would go insane before quickly calming down again.
By the midway point of Aoki's 90-minute set, the light show, which should have been breathtaking, became dull. The giant LED letters played whatever was on the screen behind them, and they never seemed to be as innovative as they could have been. The light show was partially salvaged, however, by the mid-set entrance of two giant glowing robots. They walked on stage and danced around while bathed in eerie neon green lights. But just as things started looking up, the robots disappeared and, curiously, never returned. Additionally, after every few songs, confetti would fly out of two enormous cannons at either side of the stage. As was the case with most elements of the show, it became unexciting and unsurprising quickly.
It's hard to blame Aoki for the listlessness of his show. He himself seemed to have done everything right. He pelted the crowd with cake (an Aoki trademark). He popped bottles of champagne over everyone. He sent audience members surfing over the crowd on giant rafts, which was a life-changing spectacle for the nine people on board, but a bore for the rest of the crowd. At one point, Aoki even brought out rapper Waka Flocka Flame for a song — however, he couldn't be heard over Aoki's wailing beats. On paper, this should have been the perfect rave. The lightshow should have been cool, the music should have been rocking, the antics should have had the crowd ecstatic, and it was Halloween for God's sake: Everyone was wearing a costume. It was the perfect storm, and yet it fell flat.
There is no one thing to blame. Aoki is an extremely talented DJ, and everyone should try to see him at least once. This is in no way a reflection of Aoki, but something was certainly missing this Halloween. Maybe it was a lack of spirit from the audience, or House of Blues' oppressive limitations. Whatever it was, Aokify America was not as much fun as it could or should have been. It was in no way a bad show — it was definitely fun. But it wasn't the legendary rave that it set out to be, and the one everyone had expected. And with expectations so high, it is hard not be disappointed.