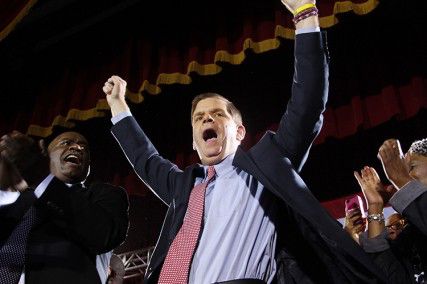 After two decades of Boston Mayor Thomas Menino, Mass. Rep. Martin Walsh was elected mayor of Boston over City Councilor John Connolly Tuesday in one of the closest elections in the history of the city.
Walsh received 51.55 percent of the vote, or 72,514 votes, and Connolly garnered 48.06 percent, or 67,606 votes, according to results from the Boston Elections Commission.
"Thank you to all the people of Boston and to everyone who voted in this election," Walsh said in his victory speech. "I can't predict all the challenges Boston will face over the next four years or all the opportunities we will be given, but I can promise you this: if we set our sights high and we work together with our hearts, our minds and our hands, then, Boston, I promise you, the best is yet to come."
The celebration for Walsh started at the Park Plaza Hotel, with a live introduction from the band Dropkick Murphys and speeches from a line of 10 endorsers including City Councilors Felix Arroyo, Michael Flaherty and Tito Jackson, Mass. Sen. President Therese Murray and Speaker of the Mass. House of Representatives Robert DeLeo.
"They said maybe he [Walsh] made us some promises, and yes, he made us some promises," Arroyo said. "He promised that he's going to create opportunities for those in poverty and the middle class, that he's going to close the achievement gap in our public schools and that he's going to be the mayor of every person [from every background] in this city."
At Connolly's election party at the Westin Copley Place Hotel, an emotional crowd cheered "We want Connolly" as he took the stage to deliver his concession speech.
"It's humbling to see all of you here," he said. "I cannot thank you enough for all that you have done. We came up short tonight, but I am very proud of how we ran this campaign. I am looking across at a room that looks like the entire city of Boston, and it has looked like the entire city of Boston from day one."
Connolly said he fully supports Walsh and, after knowing him for 18 years, he is sure he will be a successful mayor.
"This was never and should never be about a candidate," he said. "It's always got to be about people who are working together, and at the end of the day, it doesn't matter who the mayor is. The people of Boston will make sure that the mayor does a great job, because the people of Boston believe in each other."
At Connolly's party, some supporters said they were worried about the future of education in Boston.
Jorge Vargas, 43, of Jamaica Plain, said he wants to be able to send his four-year-old to preschool and hopes Walsh will be able to reform the public school system as Connolly said he would.
"I feel sad because John Connolly is a great guy and he had the will and determination to make this city a much better city, but I'm hopeful that Marty Walsh will live up to the expectations of all Bostonians and bring Boston to its full potential," he said.
Voters at Walsh's party said they saw the victory coming even though Walsh was behind in the polls for the majority of the race.
"This victory is a transformative opportunity for Boston, and I've known for a while the minority vote would end up behind Walsh in the end," said Marc Germain, 38, of Roxbury. "Marty is truly an inclusive [choice] who will reach out to all communities, and that's what got him so much of the vote."
Tanya Cabral, 41, of Dorchester, said Walsh's victory was inspiring.
"The bottom line is that people saw this man's heart," she said. "They saw that he cares and that he believes in second chances. I prayed he would win because you can tell he will do a good job. The fact that his underdog story comes in the midst of everything else this city has rebounded from, it means there's something good coming for all of Boston."
Walsh will take office on Jan. 6, marking the end of Menino's 20-year tenure.