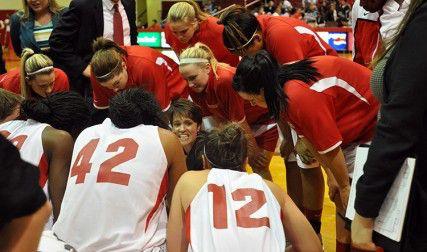 As the 2013-14 NCAA season dawns over Case Gymnasium, changes are coming to the Boston University women's basketball team, even if they are not that obvious.
Sure, head coach Kelly Greenberg is again patrolling the sidelines for her tenth season, just as energetic and passionate as ever, while senior Rashidat Agboola is still the team's starting forward after another terrific season, leading her peers in rebounds (9.0) and field-goal percentage (.458).
But admittedly, with so many factors outlying BU this season, it is a time of change and rejuvenation, or as Greenberg puts it, a "new era" in the face of Terriers basketball.
"We're gonna have a lot more personality on the court," Greenberg said. "And it's exciting for me, as a coach, to watch my players into something different than last year. Our attitude as a team overall is that we are not rebuilding, we're reloading."
Big shoes to fill
While BU closed last year with one of the best finishes in school history, it also lost some of its best players. The guard trio of Chantell Alford, Mo Moran and Kirsten Sims all graduated in May, leaving Agboola and senior forward Whitney Turner as the only incumbent starters from last year.
As such, the Terriers will instead look forward to relying on a rotation of young players as the team moves forward in the fall.
"We're going to be different," Greenberg said. "I'm never going to have another player like Mo Moran or Chantell Alford again, so we're just going to be very different and play to the strengths of our players. We have a lot of ingredients, we're not sure where it fits in yet, but we'll take it one step at a time."
Perhaps the most promising candidate to fill in for the loss of BU's three graduated guards is senior guard Danielle Callahan, who played a big role off the bench last season, participating in all 30 games and averaging 7.7 points per game.
"Danielle played a lot of minutes for us, and she's definitely someone we'd like to count on going in," Greenberg said. "Even though she's only technically played one year due to the transfer rules and the ACL injury, she's really has the most experience of our guards, and it shows every day at practice. She knows what we want [in terms of that position]. … She's very different from Mo and Chantell at the point. She can shoot the three, and is very solid overall in the inside game."
Greenberg also expressed enthusiasm towards the freshman class, especially due to the play of Sarah Hope and Courtney Latham, as Greenberg said she believes that they will have an opportunity to step up and compete for the last two starting spots against sophomore Katie Poppe, who also saw significant playing time last season with Callahan, and junior Troi Melton, who redshirted last year due to injury.
"[The freshmen] get it," Greenberg said. "They play with such a high level of confidence. They're going to be a nice addition to the team. We're certainly going to have a lot of unique players step up at different times, and we're gonna use our depth a little bit more than last year. Our team is built on hard work and playing unselfishly, and I think because of that, we're going to be very solid in the back court."
New League, New Challenges, New Opportunities
The 2013-14 season will be a highlight of firsts for the Terriers, with one of the main focuses being the team's transition into the Patriot League after a successful tenure in America East. The conference is home to some of the most formidable and successful opponents BU has ever faced, including the United States Naval Academy and the United States Military Academy. The two teams have rattled off consecutive NCAA Tournament bids and WNIT bids in the past two years respectively.
The Patriot League is familiar ground for Greenberg, who spent seven seasons as a member of the College of the Holy Cross coaching staff before moving on to a head-coaching job at University of Pennsylvania. The Crusaders finished with six Patriot League titles and four trips to the NCAA tournament during her tenure.
"We're excited. We really have no idea what to expect," Greenberg said. "I've spent some time [in the league] so I know what the programs are, but to the players, they are playing entirely new teams. It's nice to have that clean slate. We've played some of the teams in the past few seasons, but other than that, everything is going to be brand new — travel, style of play. We don't have that history between the teams and I'm excited about that."
In addition, the team will be making headlines by participating in the Basketball Hall of Fame Women's Challenge on Nov. 22 by opening against the University of Connecticut, the reigning NCAA Champion. Other notable teams on the schedule include last year's Metro Atlantic Athletic Conference Champion Marist University on Dec. 14, as well as local rivals such as Harvard University, University of Massachusetts-Amherst and Boston College.
"Our non-conference [schedule] is pretty hard, especially when we hit the tournament," Greenberg said. "We're thrilled to have the opportunity to play against UConn and beat the national champs.
"But in the end, we're really only focused on 'let's be as good as we can' and being ready for the next upcoming game."
Retaining Tradition

Despite all the changes in players and opponents, the Terriers' goal remains the same: to continue to dominate conference play and make their way into the NCAA Tournament for the first time since 2003. That's the mentality Greenberg hopes to instill on her players — to prove the doubters wrong and to continue to follow the same path of success paved by history and tradition.
And as challenging as the road ahead will be, the Terriers are confident that they will continue to be a force to be reckoned with, despite the loss of Moran and Alford.
"I think so many people know and think we lost a lot, and we did [with] two guards who had unbelievable careers," Greenberg said. "And a lot of people think we're going to be down and ask, 'Well, what are you going to do without the two of them?' which is a valid argument. But I think our team has taken on the mentality to [prove them wrong] and I'm proud of them and excited to see what they will do."