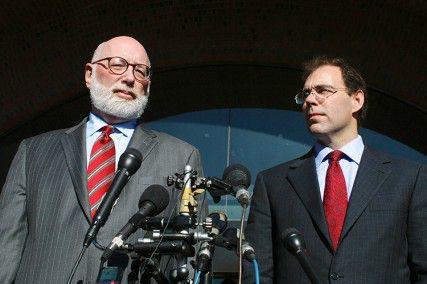 Emotions ran high, words were exchanged and families of the victims of James "Whitey" Bulger's crimes had the chance to speak their mind to the ex-mobster at a sentencing hearing Wednesday at the U.S. District Court in South Boston.
The prosecution began the sentencing by urging Judge Denise Casper to sentence Bulger to life in prison and called him a "little sociopath."
"The defendant has committed one heinous crime after another," said Assistant U.S. Attorney Brian Kelly. "The carnage that he has caused is grotesque. He helped flood his own neighborhood [South Boston] with drugs. As long as he prospered, no one mattered. Human life meant nothing to him."
Bulger, 84, was convicted on Aug. 12 on various counts of racketeering, extortion and money laundering. He was also found guilty of 11 of the 19 murders that he allegedly committed during his time as former mob boss of the Winter Hill Gang during the 1970s and 1980s. He was found after a prolonged manhunt that lasted 16 years in Santa Monica, Calif. in 2011.
Bulger, wearing an orange prison jumpsuit, declined to address the court or the families. He  did not face about 12 speakers that addressed him and instead stared down, scribbling on his pad of paper.
Sean McGonagle  — the son of Paul McGonagle, who was killed in 1974 and whose body was found in a shallow grave in 2000 — said Bulger was "Satan," and that "the electric chair would be too good for him."
"You are a domestic terrorist fueled by greed and a sickening ego," he said, addressing Bulger. "In '75, you stooped to an all-time low when you called my house and said, 'Your father is not coming home for Christmas.' And I asked who it was and Bulger responded, 'This is Santa Claus.'"
Steve Davis — the brother of Debra Davis, the girlfriend of Bulger's close associate Stephen Flemmi, was allegedly strangled by Bulger in 1984 because she could have told other people that they were informants for the Federal Bureau of Investigation. He became choked up and shouted obscenities at Bulger.
"I have fought hard for justice for my sister Debbie," he said. "This man has built up so much hate in my heart, I'd like to strangle him myself. I hope Whitey dies the same way my sister did, gasping for breath. You piece of [expletive], look at me!"
Theresa Bond, daughter of Arthur "Bucky" Barrett, who went missing in 1983 after a dispute with Bulger asked, "Mr. Bulger, could you please look at me?" but he never looked up.
"I just want you to know that I don't hate you," she said. "I do hate the choices you made. I hate the choices our government has made that allowed you to rule the streets. You will be summonsed to the highest judge. A lethal injection would be too easy of a punishment.
Bond asked Bulger one more question before leaving the stand, which he did not respond to.
"Mr. Bulger, do you have remorse for taking my father's life?," she asked. "I think you do. I forgive you."
Near the end of proceedings, Bulger had the opportunity to speak on his behalf, but he stood and said "No."
Bulger's attorney, J.W. Carney Jr., told reporters after the hearing that he did not speak during proceedings in order to stay true to his beliefs about the nature of the trial.
"From his perspective, he did not receive a fair trial because he was not able to put forward everything he could have," he said. "He did not want to validate the trial by participating directly or indirectly through us in the sentencing process, and so to have made a statement at the trial or to have turned directly and faced the people who testified today would have been part of validating the trial."
Carney said Bulger was not untouched by the lengthy, detailed testimony offered by the victims' family members.
"It was one of the most powerful presentations I've ever seen in the courtroom," he said. "I don't think James Bulger was immune to that emotion. He was affected by it. I think that was in response to the power of their words. He reacted by a couple of times almost turning to face them when it's clear he had not intended to."
The sentence will be handed down by Casper on Thursday at 10 a.m. at the John Joseph Moakley Courthouse.